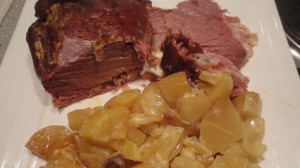 Recipe: Devil's palette
Devil's palette recipe cooked with baked Agata potatoes. Recipe for a devil's palette in the oven, with this cooking the devil's palette will be very soft. Devil's palette recipe for a complete meal, slow cooking in the oven, the potatoes will cook in the devil's palette juice and in white wine, they will be succulent. Devil's palette, it only has the name, because the devil's palette no longer smells of mustard, children are happy to eat it.
Recipe ingredients
Recipe Devil's palette for 4 people:
1 pallet of 600 gr
12 cl of white wine
4 tablespoons of strong mustard
12 cl of sour cream
2 onions
1 tablespoon of olive oil
1 kg of Agata potato
Instructions
Peel the onions, then cut them into rings.
Peel the potatoes then cut them into slices
Season the palette with salt and pepper.
Brush the palette with the mustard.
Pour olive oil into the bottom of the cast iron casserole dish?
Place the palette in the middle of this casserole dish.
Pour some of the onions around the pallet.
Pour half the potatoes over the onions
Finish putting the onions on the potatoes.
Finish with the potatoes.
Pour the cream over the vegetables.
Soak in the white wine.
Place in a hot oven at 160 ° for 2 hours.
Preparation time: 20 minutes
Cooking time: 120 minutes
Number of people: 4
4 star rating: 1reviews
What wine to drink with: Palette à la diable
My favorite wine for this Pinot gris Tokay recipe Grape variety: Pinot gris
Temperature between 11 ° and 12 °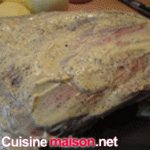 Mustard the palette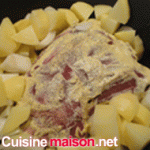 Place the potatoes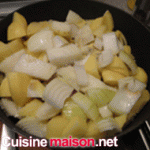 Cover with vegetables
Plate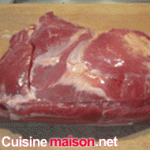 The palette