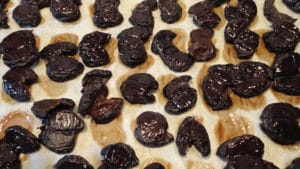 Dried Prunes Recipe
Dried prunes, dried fruits, they are very good for the health. These dried Fallon prunes, it was the corn that gave them to us. Dried prunes in the oven, for 2 hours and it's done, nothing better than making these prunes, no need for any product brought, just a little time. I will keep them all year, I will offer them in various recipes and even in pastry, ideal for making a Far Breton with dried prunes.
Dried prunes recipe for 4 people
Ingredients :
Instructions
Rinse the prunes, then dry them.
Cut the prunes in half, then place them on a baking sheet covered with plastic wrap.
Cook over low heat 130 ° for two hours.
Turn the prunes over and cook over low heat 130 ° for 2 hours
Store your prunes in a dry jar.
Preparation time: 30 minutes
Cooking time: 120 minutes
Number of persons :
4 star rating: 1 review
Dried prunes, for your recipes all year round, rehydrated with a living alcohol or water. In your far Breton, terrine, risotto….
What wine to drink with: Dried prunes
To choose according to the dish made
Thanks to grandma Ginette for her prunes