Caramelized Pecan Cookies Recipe
With cookies it's a love story; everyone at home is crazy about it and I admit that with quality coffee, a cookie of a few days is always welcome. This time I chose pecans, which I love as an aperitif, I like their flavor and their crunchiness. So why not caramelize them, with their salty side, the caramel will be strengthened, I loved it and, given the hole in the box, I'm not the only one, so much the better !! because they are there for that. This is a change from chocolate cookies, but be careful not to compare chocolate cookies and caramelized pecan cookies, they both have their home story, but the first to arrive are chocolate cookies, with big chips. of chocolate. Next time I want to test with salted peanuts, kinda like these pecan cookies
Caramelized pecan cookies recipe for 40 cookies:
Ingredients
150 g of pecans
To caramelize the nuts
40 g of water
60g sugar
For cookies
500 g flour
8 g of fine salt
8 g of sodium bicarbonate
100 g butter
63 g peanut butter
170 g of caster sugar
170 g of vergeoise sugar
2 eggs (125 g)
5 g vanilla extract
Instructions
Preheat the oven to 170 °
Wipe the pecans in a clean tea towel to loosen them a little.
Heat 40 g of water with the 60 g of sugar in a saucepan and heat up to 120 °.
Out of the heat add the nuts and stir, the sugar will crystallize, the nuts will turn white.
Raise the temperature; the white sugar will caramelize, leaving it to brown, the nuts will turn caramel.
Pour the caramelized nuts on a sheet of food paper, be careful, it is very hot.
Crush the pecan caramel as soon as it has cooled.
Sift together the flour, sugar and baking soda.
Add salt to the sifted flour.
Add the peanut butter, butter and vanilla extract.
Crack the eggs over the mixture in the mixer bowl.
Make portions equivalent to a tablespoon of preparation, about 30 g.
Form a ball like plasticine, tighten it well in your hand.
Place the balls on a baking sheet covered with a sheet of parchment paper.
Leave a space of 2 cm between each cookie ball.
Flatten the balls with the palm of your hand, they will be just barely domed.
Bake for 14 minutes in the oven in the middle position.
Wait 5 minutes, then
Place them on a wire rack to cool
Instructions
:
Preparation time: 30 minutes
Cooking time: 14 minutes
Number of people: 40 Cookies
4 star rating: 1 review
Tool: Sugar thermometer (120 °)
What wine to drink with: Caramelized pecan cookies
My favorite wine for this recipe: Pinot noir Grape Pinot noir
Temperature between 08 ° and 12 °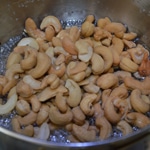 Nuts in caramel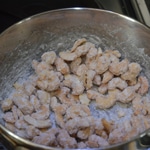 Mix until they turn white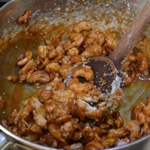 Walnuts caramelize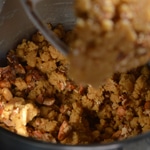 Mix the nuts with the dough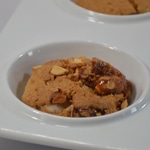 Zoom<img src="/wp-content/uploads/2021/09/2996669221246996481.jpg" class="aligncenter"