Zucchini and Chicken Dough Recipe
Recipe. Zucchini and carrot quiche without dough, add flattering parsley and the rest of your chicken. Cooked chicken quiche recipe. Here's how to use leftover cooked chicken for an evening meal. Vegetable and chicken quiche recipe, quick and easy this dough-free quiche recipe can be prepared in a few minutes. Zucchini quiche without dough
a quiche with vegetables and the rest of a chicken to enjoy with a green salad, the children will love.
Quiche recipe without dough with zucchini and chicken for 4 people
Ingredients
1 Zucchini (200g)
1 yellow zucchini (200g)
3 carrots (200g)
3 cloves of garlic
100g of Comté
100 g parmesan
1 tablespoon of olive oil
3 tablespoons chopped flat-leaf parsley
50 g flour
4 eggs
1/2 liter of milk
Instructions
Wash all the vegetables in clean water.
Coarsely grate the zucchini, yellow zucchini and carrots.
Peel then crush the garlic.
Heat a large pan with olive oil, then add the carrots for 6 minutes then set aside.
Add the zucchini and leave for 4 to 5 minutes, then add the carrots, the flat-leaf parsley and simmer for 5 minutes.
Mix the eggs with the flour, liquid cream and hot milk, add the cheeses.
Butter your pie plate then flour it.
Pour the preparation of the dough then the cooked vegetables, distribute in the mold
Bake in a hot oven at 170 ° for 30 minutes.
Preparation time: 30 minutes
Cooking time: 30 minutes
Number of people: 4
4 star rating: 1 review
What wine to drink with Quiche without zucchini and chicken dough
My favorite wine for this recipe Vin du pays de l'Aude rosé Grape variety: Syrah
Temperature between 08 ° and 10 °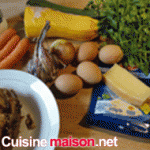 Ingredients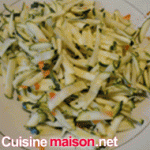 Grate the zucchini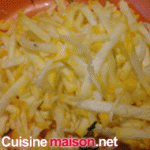 Grate the yellow zucchini
Grate the carrots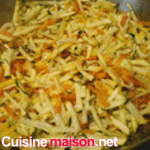 Mix the vegetables
Add the parsley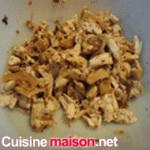 Bone the chicken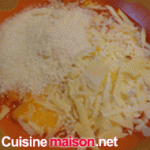 Prepare the device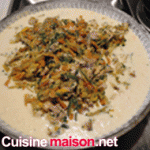 Distribute the vegetables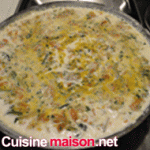 Ready to cook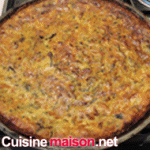 Cooked