Recipe: The galette des rois
Recipe la galette des rois, here is a tradition that persists after the New Year. With us the youngest goes under the table and designates the shares to be distributed. Galette des rois with frangipane or galette des rois with almond cream the two schools compete for the happiness of our taste buds, personally I much prefer the galette des rois with almond cream, but the next year I promise I will make you a galette des rois with frangipane. In the galette des rois we only find good things, butter, almond powder, egg and icing sugar. 2012 souvenir recipe
Recipe ingredients
La galette des rois recipe: For 8 people
2 circles of puff pastry 25 cm in diameter
2 Eggs (weigh the eggs to define the weight of the other ingredients)
100 g of almond powder (egg weight)
100 g icing sugar (egg weight)
100 g butter (egg weight)
1 egg for gluing
Instructions
Divide the dough into two rolls, or easier, order them from your pastry chef.
Spread them out into 2 discs 3 to 4 mm thick.
Separate the white from the yolk for an egg.
Pass a brush with the egg white on the edges of the bottom layer, the width of the brush.
Break the two eggs into a bowl.
Add the icing sugar, mix vigorously with a whisk.
Add the almond powder, mix vigorously with a whisk.
Add the tempered butter, mix vigorously with a whisk.
Place the device in the center of your pancake, without touching the edge of the pastry going to the egg.
Place the bean close to the outside.
Place the upper pastry roll on the marzipan without pressing the edges.
Chick with the back of the knife tip to weld the puff pastry.
Mix the egg yolk with a teaspoon.
Brush the egg yolk over the pancake, without putting any on the chiquet.
Bake in a hot oven at 180 ° for 45 minutes.
Enjoy lukewarm.
Preparation time: 15 minutes
Cooking time: 45 minute (s)
Number of people: 8
4 star rating: 1 review
What wine to drink with: La galette des rois
My favorite wine for this recipe Brut Champagne (White) Grape varieties: Chardonnay, Pinot meunier, Pinot noir)
Temperature between 7 ° and 8 °
Thanks to the Springaux bakery in Pusey and particularly to Christophe, for his wonderful puff pastry.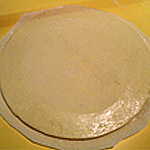 Roll out the dough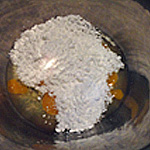 Egg and sugar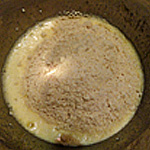 Add the almond powder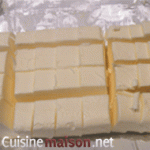 Butter at temperature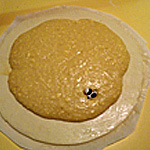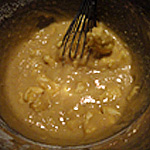 To mix together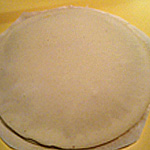 Cover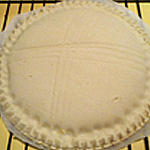 Chick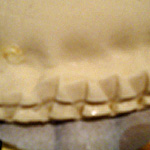 Zoom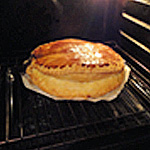 In the oven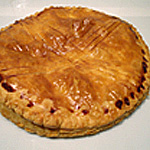 Ready<img src="/wp-content/uploads/2021/09/8418813886478159675.jpg" class="aligncenter"