Recipe: Potato herring
Recipe for potato herring, to start a meal, these small pieces will have a great effect, you have to cut the onion peels to the size of potatoes. Herring on a skewer, ideal for an aperitif, these skewers are complete, serve chilled. How to surprise friends. Of course if you have the time you can make a herring salad with potato skewers but it will take a little patience.
Recipe ingredients
Potato herring recipe for 4 people:
125 g smoked herring
4 small potatoes
1 large onion
12 sprigs of chives
12 red berries
12 wooden picks
1 tablespoon of olive oil
6 oval olive tomatoes
Instructions
Cook the potatoes in salted water for 20 to 25 minutes.
Peel the potatoes as they are lukewarm.
Cut the cherry tomatoes in half after rinsing them.
Cut the potatoes into cubes.
Peel the onions, cut them into quarters.
Cut the chives to the same size.
Take the first onion peel and prick the potato cube.
Slice off the excess onion so that it lines up with the potato cube.
Prick on half a cherry tomato.
Place a red berry on each piece of herring.
Pour a little oil on each skewer.
Plant the chives on the spikes.
Reserve in the refrigerator so that the preparation is very fresh.
Preparation time: 20 minutes
Cooking time: 25 minute (s)
Number of people: 4
4 star rating: 1 review
What wine to drink with: herring potato
My favorite wine for this recipe: Smoked Pouilly Grape Sauvignon Blanc
Temperature between 08 ° and 10 °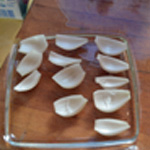 Slice the onion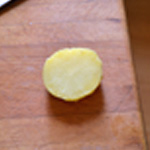 Slice the potatoes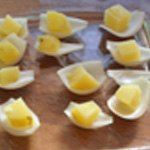 Place the apples on the skin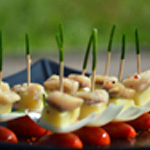 Plant the chives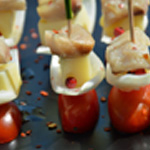 Zoom