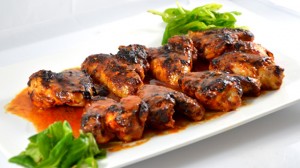 Recipe: Easy Chicken
Easy Chicken recipe, easy recipe here I cooked chicken wings, they are a little more fatty than the thighs and lend themselves well to this kind of recipe, ideal for a roast chicken. Baked chicken generously brushed with the spicy preparation, the chicken will cook slowly and delicately flavor itself. A real explosion in the mouth with this barely spiced sauce, the taste buds wake up from the first bite. Cooking chicken in the oven, but you have to baste it regularly if you want a very soft chicken.
Recipe ingredients
Easy Chicken Recipe for 4 people:
1 kg of chicken wings
1 tablespoon of paprika
2 tablespoons of soy sauce
1 tablespoon of honey
10 cl of liquid cream
3 tablespoons of ketchup
1 to 3 drops of Tabasco
20 gr of butter
Instructions
Butter a baking dish.
Season the chicken with salt and pepper.
Pour the cream into a small bowl.
Add the ketchup and incorporate it into the liquid cream.
Sprinkle the paprika.
Pour the desired dose of Tabasco, beware it moves.
Mix the preparation.
Pour in the soy and honey.
Mix your preparation well, it must be thick.
Liberally brush the chicken wings on all sides.
Place the chicken wings in the dish.
Bake in an oven at 180 ° rotating heat for one hour.
Baste the chicken wings every ¼ hour.
Preparation time: 20 minutes
Cooking time: 60 minutes
Number of people: 4
4 star rating: 1 review
What wine to drink with: Easy chicken
My favorite wine for this recipe: Anjou village rouge Grape variety Cabernet Franc and Sauvignon
Temperature between 13 ° and 15 °
Chicken wings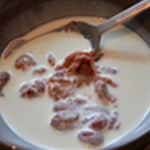 Prepare the sauce
Soy sauce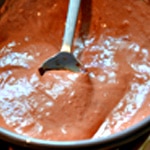 Incorporate all elements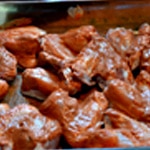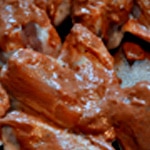 Brush generously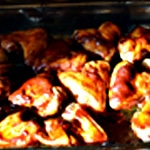 Cook in the oven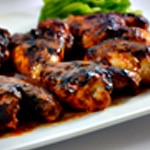 Zoom