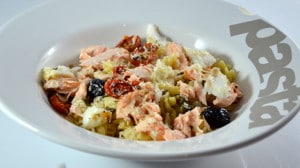 Recipe: Fussilli with salmon
Salmon fusilli recipe, I love pasta paired with fish, here a salmon just baked in the oven. The salmon is hell when it is baked, it will peel easily and flavor the fusilli. A small sauce flavored with white wine and flavored with chives will enhance this dish worthy of your guests. At home we love all the pasta and especially when it is accompanied by a fish, we loved this fusilli dish with salmon.
Recipe ingredients
Salmon Fusilli recipe for 6 people:
4 salmon steaks
400 g of prawns
500 g of fusilli
3 leeks
20 sprigs of chives
30g butter
10 cl of dry white wine
10 cl of liquid cream
1 teaspoon ground pepper
1 teaspoon of paprika
Instructions
Remove the shrimp from the shell.
Coarsely crush the peppercorns in a mortar
Place the salmon steaks on a baking sheet.
Spread the cracked peppercorns over the salmon, then season with salt.
Cut the cherry tomatoes in half.
Place in a hot oven at 180 ° for 13 minutes.
Rinse the chives in clean water, then mince them finely.
Peel the leeks and reserve the white.
Cut the greens of the leeks into sections.
Grill the shrimp heads in the butter then add the green leeks.
Spice up with the paprika.
Add the wine and reduce for 10 minutes, then add the cream and reduce for another 5 minutes.
Filter the sauce with a Chinese.
Add the chives to the sauce.
Cook the pasta in a large volume of salted water.
Finely slice the leek whites and brown them in the butter for a few minutes.
Pour the pasta into a hot plate, then the leek whites and distribute the sauce.
Crumble the salmon directly on the pasta.
Grate the Parmesan.
Add the cherry tomatoes, then serve.
Preparation time: 15 minutes
Cooking time: 11 minutes
Number of people: 6
4 star rating: 1 review
What wine to drink with: Fusilli with salmon
My favorite wine for this recipe: Anjour Coteau de la Loire blanc Grape variety Chenin blanc
Temperature between 08 ° and 10 °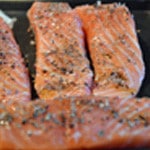 Leather the salmon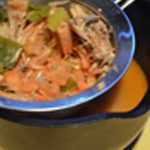 Cook the shrimp heads
Let reduce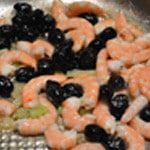 Sear the shrimps and olives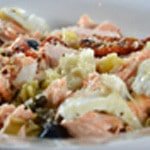 Zoom