Recipe: Cauliflower cream soup with curry
Cauliflower and curry velouté recipe, a creamy soup enhanced with curry. A cauliflower soup for everyone's pleasure to prepare in a few minutes, you can also gratinate the cauliflower and curry soup. For this cauliflower soup, I used fresh cauliflower, but if you are short of time frozen cauliflower will do. Cream of cauliflower or velvety soup, a soup with a beautiful white, that children will love. A soup that is out of the ordinary, of course enhanced with smoked brisket.
Recipe ingredients
Cauliflower and curry velouté recipe for 4 people:
1 fresh cauliflower or 1 kg of frozen cauliflower
8 slices of smoked bacon
15 cl of fluid cream (optional)
2 tablespoons of curry
Salt and pepper
Instructions
Peel the cauliflower, then rinse it with clean water.
Cut the cauliflower into small pieces.
Place the vegetables in a large saucepan.
Cover with salt and pepper water.
Leave to cook for about 30 minutes.
Heat the oven grill to 200 °
Spread the slices of smoked bacon on a baking sheet.
Bake for 6 minutes, then set aside.
Reserve half of the cooking water.
Mix the preparation by adding the curry.
Pour in the fluid cream.
Add broth if necessary to obtain a smooth velvety.
Place the grilled bacon slices in each bowl.
Preparation time: 10 minutes
Cooking time: 20 minute (s)
Number of people: 4
4 star rating: 1 review
What wine to drink with: Cauliflower velouté with curry
My favorite wine for this Alsace Pinot gris recipe (Dry white)
Temperature between 7 ° and 8 °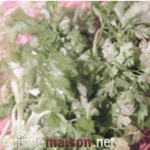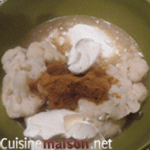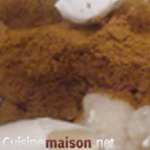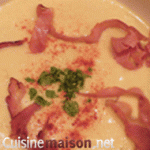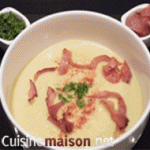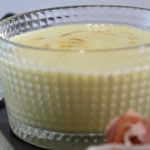 More recipes:
Cream Of Cauliflower

Cauliflower gazpacho with curry

Endive and gray shrimp velouté

Egg casserole with cauliflower
Cauliflower
liquid cream
Smoked bacon Pascal
A comment

Hide reactions

I made some too
I love soups and veloutés oupes
we have some recipes in common
it's cool !

BREEeeeeeeeeeeeeeeeeeeeeee
Your reactions / questions / tips: Cancel reply
Remark
Name *
Email *
Website
</p