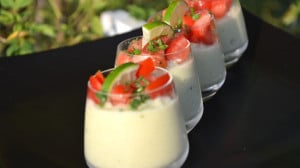 Recipe: Vegetable gazpacho
Celery gazpacho recipe, a small starter for the arrival of summer, I think I have been around the gazpachos. This Spanish soup is eaten cold during the hottest moments. Here I served this gazpacho recipe in small glasses for everyone's pleasure. Cucumber and lime soften the taste of celery a bit, walnut vinegar gives it a light flavor.
Recipe ingredients
Celery gazpacho recipe for 4 people:
1 small celery of 500 g
1 lime
½ cucumber
1 teaspoon of strong mustard.
1 tablespoon of walnut vinegar
2 tablespoons of walnut oil.
1 small clove of garlic
½ small onion
Salt and pepper
Instructions
Peel the celery.
Cut into small cubes.
Pour the celery into a saucepan and cover with water.
Squeeze the lime directly into the saucepan, then slice and place on the celery.
Cook the celery in water for 5 minutes.
Peel the ½ cucumber while the celery is cooking.
Slice the cucumber in half, then remove the seeds and cut into cubes.
Drain the celery, removing the limes, but reserve the liquid to add if necessary.
Pass the preparation in a blender.
Add the walnut vinegar, oil and strong mustard to the blender.
Peel the onion and cut into cubes, then add to the blender.
Peel the garlic, finely chop and add to the blender.
Add a little cooking liquid to obtain the desired texture.
Pour the gazpacho into the verrines when it has cooled.
Spend at least an hour in the refrigerator.
Preparation time: 20 minutes
Cooking time: 0 minutes
Number of people: 4
4 star rating: 1 review
What wine to drink with: Celery gazpacho
My favorite wine for this recipe: Touraine Sauvignon Grape Sauvignon Blanc
Temperature between 11 ° and 12 °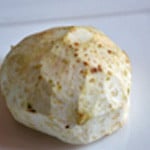 Peel the celery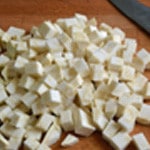 Cut into cube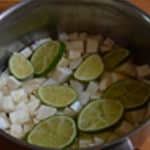 Lemon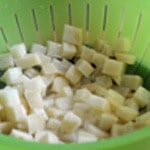 Cook the celery
Peel the cucumber