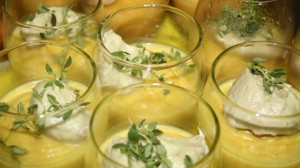 Recipe: chickpea gazpacho
Chickpea gazpacho recipe. I like chickpeas, this gazpacho is a bit like mashed chickpeas. A verrine to consume during the great heat. chickpeas in jars are very suitable for this recipe
Recipe ingredients
Chickpea gazpacho recipe for 4 people
400g of chick-weight, cooked in its natural state
2 tablespoons of chopped cilantro
40 g of crustless breadcrumbs
1 tablespoon of ground cumin
5 cl of cider vinegar
20 cl of fluid cream
15 cl of olive oil
Salt flower
30 cl of ice water
Instructions
Pour the chickpeas in a colander, rinse them in cool water, then drain them.
Soften the bread by wetting it lightly.
Soak it with the vinegar.
Place the chickpeas in an airtight container half of the oil.
Sprinkle with cumin and a little fleur de sel.
Leave in the refrigerator for 6 to 12 hours.
Transfer the contents of the container to a blinder.
Add a ½ glass of water and mix.
Slowly add the rest of the oil to obtain a smooth paste.
Continue to mix, adding the rest of the water, until you obtain the consistency of the dough you want. Pour the preparation into your verrines.
Spread a tablespoon of whipped cream on top.
Reserve in the refrigerator and present with a few chopped coriander leaves.
Preparation time: 10 minutes
Cooking time: 0 minutes
Number of people: 4
4 star rating: 1 review
What wine to drink with: Chickpea gazpacho
My favorite wine for this Rioja recipe: Tempranillo grape
Temperature between 15 ° and 16 °