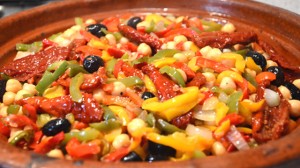 Recipe: Chickpea Tagine
Recipe for chickpea tagine, to return in autumn, another dish that smells a little of the sun, this tagine cannot leave people indifferent with all its colors. I like chickpeas in jars, with always perfect cooking, I always have a reserve of chickpeas. We eat a lot of chickpeas, it must be said that we love hummus.
Recipe ingredients
Recipe for 8 people:
2 jars of chickpeas.
1 nice zucchini
125 g of drained Greek-style black olives.
400 gr of frozen multi-colored peppers
4 onions
140 g sundried tomatoes, drained
1 tablespoon of olive oil.
Instructions
Drain the chickpeas in a colander.
Peel the onions, then cut into small cubes.
Peel the zucchini, then cut into small cubes.
Heat the pan with the olive oil, then add the onions.
Add the zucchini.
Add the thawed peppers as soon as the onions are translucent.
Cut the sun-dried tomatoes into strips.
Add the sundried tomatoes and lower the heat a little.
Add the chickpeas and stir.
Salt and pepper.
Place in the oven for 30 minutes at 150 °
Preparation time: 50 minutes
Cooking time: 30 minutes
Number of people: 8
5 star rating: 1 review
What wine to drink with: Chickpea tagine
My favorite wine for this recipe: Bandol rouge Cépage Cinsault; Mourvèdre; Grenache noir
Temperature between 15 ° and 17 °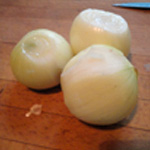 Peel the onions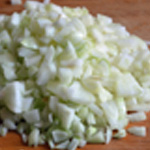 Slice the onions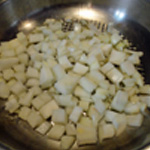 Peel the zucchini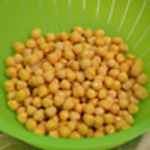 Drain the chickpeas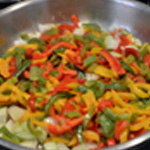 Add the strips of peppers