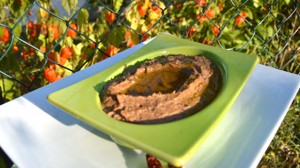 Recipe: Chickpea tapenade
Chickpea tapenade recipe, ideal to start a meal with friends, we like to spread as an aperitif, I let each person cover their toast as they wish. Some sandwiches are very generous, I like that my tapenade completely covers my slice of bread, I also like it a little rounded. I didn't add a lot of anchovies, I didn't want it too strong, in any case it was successful we ate everything and the little that was left my friend Stéphane left with it.
Recipe ingredients
Chickpea tapenade recipe for 8 people:
400 g cooked chickpeas
2 cloves garlic
70 g pitted black olives and Greek style
8 tablespoons of olive oil
1 teaspoon ground cumin
¼ teaspoon of salt
20 g anchovies in oil
Instructions
Rinse the chickpeas under running water.
Peel the garlic.
Mix the garlic, black olives and anchovies.
Add the chickpeas and mix.
Gradually pour in the oil and mix as you go.
Add the cumin, salt, mix, taste and rectify if necessary.
Preparation time: 30 minutes
Cooking time: 0 minutes
Number of people: 8
4 star rating: 1 review
What wine to drink with: Chickpea tapenade.
My favorite wine for this recipe: Bandol rouge Cépage Mourvèdre, Grenache noir, Cinsault
Temperature between 17 ° and 18 °
Thanks to Léonie for her wonderful photo and thanks to Françoise for the flowers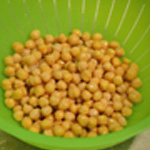 Drain the chickpeas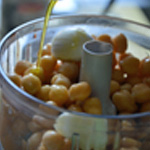 Mix the chickpeas