Low temperature pike-perch fillet recipe
Here is a fish that I am not used to cooking, in fact no one at home fishes; moreover, pike-perch are becoming increasingly rare in our regions and fishermen reserve them for themselves. I am fortunate to have access to a professional store and I found some beautiful fillets with skin to make my low temperature pike perch fillet recipe. Then it's up to you to choose the sauce that will accompany this fillet, no white butter this time, I opted for a Hollandaise sauce with my low-temperature pike-perch fillet, in addition I had my brother Kiki (who had mission to make this beautiful sauce). I especially liked the flavor of the flesh of the fish, Low temperature pike perch fillet, you will love the flesh of this fish, its flavor.
Low temperature pike-perch fillet recipe for 4 people:
Ingredients
4 fine pike-perch fillets with the skin on
40 g butter
Peppercorns
Instructions
Preheat the oven to 80 ° and place the plates at the bottom of the oven.
Rinse the pike-perch fillet under the tap.
Wipe the fish with food paper.
Heat a pan with half the butter.
Place the fillets skin side down in the hot butter and cook for two minutes, just long enough for the skin to brown a little.
Place the fish flesh side down in a baking dish.
Place a knob of butter on the fillets.
Salt and pepper the fillets
Bake in the oven for 40 minutes (be careful, the time varies depending on the size of the fillets).
Preparation time: 5 minutes
Cooking time: 40 minutes
Number of people: 4
4 star rating: 1 review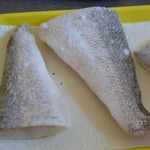 Flour the fillet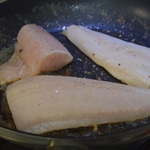 Place in an oven dish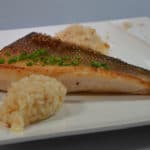 What wine to drink with: Low temperature pike-perch fillet
My favorite wine for this recipe: Pupillin blanc 2014 Grape variety Savagnin blanc, Pinot blanc and Chardonnay
Temperature between 10 ° and 12 °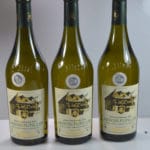 Bottles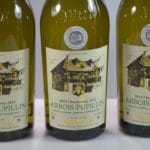 Zoom
Partnership with wine Paul Benoit et fils in Pupillin in the Jura
A thought to all those connected from France or abroad in love with French cuisine and its wines, here is a great opportunity for you to buy a quality wine, without any risk, to accompany my recipe for Filet de Sander low temperature . I selected this white pupillin Arbois wine from Paul Benoit's estate – after tasting it, I loved it.
Arbois Pupillin white 2014
A pale yellow color with a rather delicate palate with some flavors of vanilla or even exotic fruit, a white with exceptional freshness without any rigor, it slips smoothly to the delight of the taster.
Paul Benoit son wine
Chardonnay Street
39600 Pupillin
Telephone: 0384 37 43 72
Email: paul-benoit-et-fils@orange.fr