Recipe: Scallops with chili
Saint Jacques with West Indian pepper, I love the look of this pepper, it inspires confidence with this beautiful red and yet, it is formidable in the kitchen and that is what makes its charm. Okay, to be fair, Raf scowled a bit and brushed off a little chili. So it's up to you to dose. Chilli scallops, chilli hell with the sweetness of scallops, here is a marriage of extremes, I loved it. Chestnuts were also present to sweeten it a bit. It is true that our culture in Franche Comté does not make us cook too much with these devilish little vegetables, but they are so beautiful how to leave them aside.
Recipe ingredients
Chilli scallop recipe for 2 people:
12 Saint Jacques
1 West Indian pepper (to use according to the desired taste)
1 tablespoon of white wine
2 beautiful shallots
2 cloves garlic
45 gr of butter
1 tablespoon of olive oil
200 gr of chestnuts
Instructions
Peel then finely mince the garlic and shallot.
Rinse then dry the West Indian pepper then wipe with food paper, mince it finely.
Rinse then dry the scallops with food paper.
Heat the pan with the butter and oil.
Sear the shallots and garlic in the hot fat.
Add the dose of chilli, be careful, this chili is moving, I used it whole.
Add the chestnuts.
Spread the vegetables on the outside of the pan.
Sear the scallops for 2 minutes on one side then 1 minute on the other.
Deglaze with the white wine and serve immediately.
Preparation time: 10 minutes
Cooking time: 3 minutes
Number of people: 2
4 star rating: 1 review
What wine to drink with: St Jacques au piment
My favorite wine for this recipe: Irouleguy rouge (southwest) Grape variety Cabernet franc and Sauvignon, Tannat
Temperature between 15 ° and 16 °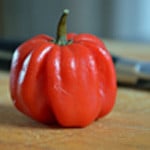 Rinse the chilli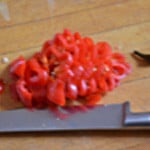 Mince the chilli
Wipe the drowns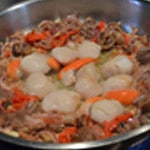 Seize the drowns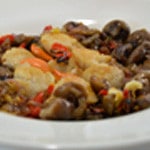 Zoom