Risotto recipe with mussels and garlic cream
I particularly like risottos, these Italian recipes are full of flavor, it is impossible to remain indifferent to this beautiful recipe for Risotto with mussels and garlic cream. Be careful when cooking the risotto, you must add the broth in stages, just cover the rice, without mixing and add as you go. From 15 minutes regularly drip the rice, to stop cooking, add Parmesan at the end of cooking to give it all its power. You will fall for this risotto with mussels and garlic cream.
Risotto recipe with mussels and garlic cream for 5 people
Ingredients :
400 g of cockles
1.5 l of mussels
20 cl of liquid cream
5 cloves of garlic
100 g of grated Parmesan
1 stalk of celery
1 tomato
1 onion
2 tablespoons of olive oil
15 cl of dry white
200 g of Arbario rice
1.5 vegetable broth
½ teaspoon ground pepper
Instructions
Cover the cockles with water to let them drain.
Peel the garlic cloves for 2 minutes in a saucepan of boiling water.
Drain the garlic cloves then chop them with a knife.
Bring the liquid cream to a boil, then add the garlic and leave to infuse off the heat.
Scrape then wash the mussels.
Peel and chop, the onion, the celery stalk.
Crush the tomato.
Heat the oil in a sauté pan with the onion, do not allow the onion to color.
Pour in the white wine and let it evaporate, then add the rice.
Cook until the rice is translucent.
Add the celery.
Pour in 2 ladles of the broth, reduce, then add two more ladles.
Cook the rice like this, regularly adding the broth for 17 to 20 minutes.
Open the mussels in a Dutch oven 5 minutes before the end of cooking the rice.
Repeat the operation with the shells.
Remove half a shell per mussel and shells, then put the mussels back in the sauté pan with the lid, set aside.
Add the tomatoes, crumble half the thyme, cover the sauté pan off the heat.
Heat the garlic cream.
Before serving, add the mussels, pour the garlic sauce over the risotto and enjoy.
Preparation time: 30 minutes
Cooking time: 15 to 17 minutes
Number of people: 5
4 star rating: 1 review
What wine to drink with: Risotto with mussels and garlic cream
My favorite wine for this Chassagne Montrachet Grape variety recipe: Chardonnay
Temperature between 12 ° and 14 °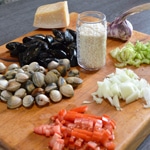 Ingredients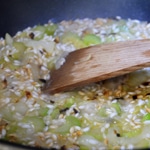 Cook the rice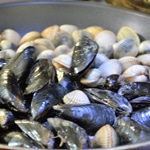 Cook the mussels and cockles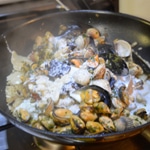 Add the parmesan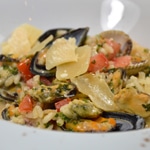 Zoom