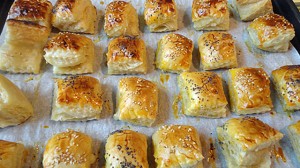 Recipe: Parmesan pastry
Parmesan pastry recipe. A puff pastry appetizer that can be prepared in advance, raw, it tolerates freezing very well. Flavored with Parmesan and sprinkled with sesame seeds and blue poppy, it will take on a pretty color when cooked. Parmesan recipe for the aperitif, it will accompany a slightly dry white and will charm guests with these colors and its smoky taste.
Recipe ingredients
Parmesan pastry recipe for 24 pieces:
350 g of puff pastry
75 g parmesan
1 teaspoon of sesame seed
1 teaspoon of blue poppy seed
1 egg
Instructions
Roll out the puff pastry in the shape of a rectangle of 20cm by 30cm.
Cut 5 cm strips crosswise with a toothed wheel.
Separate the egg from the white from the yolk
Cut in half lengthwise.
Cut the parmesan into cubes.
Place a cube on each rectangle.
Use a brush to brush the egg white over a small cm around the edges of your rectangle.
Fold half of the rectangle over the Parmesan.
Glue the edges of the rectangles.
Brush your little squares with egg yolk
Sprinkle with poppy seeds and sesame.
Place each portion on baking paper.
Spend an hour in the refrigerator.
Place in a hot oven at 200 ° for 10 minutes.
Number of rooms: 24
Cooking time: 10 minutes
4 star rating: 1 review
What wine to drink with Parmesan puff pastry
My favorite wine for this recipe: Savagnin Cépage Savagnin blanc; Pinot blanc; Chardonnay
Temperature between 10 ° and 12 °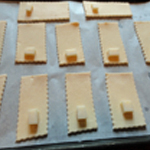 Cut the dough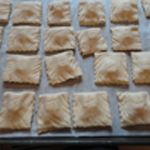 Solder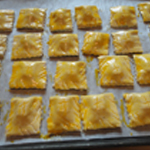 Egg yolk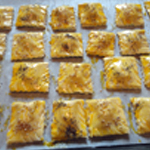 Ready to cook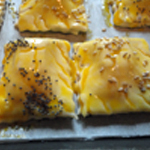 Zoom