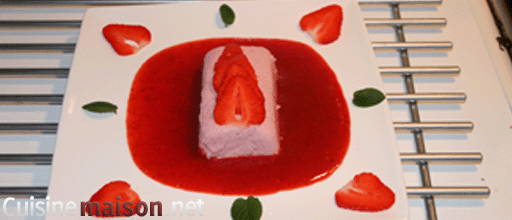 Strawberry Panna Cotta Recipe
Summary: Panacotta or strawberry mousse recipe, with the abundance of strawberries in this season, they are found at very light prices. A strawberry dessert all washed down with a strawberry coulis, at home the strawberries are in celebration we love them. This strawberry panna cotta is so sweet that it looks like a cream of strawberries, We have all finished our plate, no trace of strawberries or coulis, the plates were so clean that I would have to put them away, but no I joking !. It took me years to come up with sweet recipes, it's a friend of mine Daniel, who after every meal, even a very generous one, always had a dessert. Today I know that the end of the meal is as important as the meal, the sweet finishing touch, people love it.
Strawberry panna cotta recipe for 4 people
Ingredients :
800 g strawberries
60 g icing sugar for the cream
10 g icing sugar for the coulis
80 g white chocolate
40 cl of 30% fluid cream
1 tablespoon of white rum
Instructions
Rinse the strawberries with plenty of water, remove the green part, reserve the best strawberries for decoration.
Mix the rest of the strawberries.
Reserve ¼ of the mixed strawberries for the coulis.
Heat ¼ of the coulis as soon as it boils, turn off the heat and add the agar agar and the chocolate. Break into pieces.
Leave to rest for a few minutes while the chocolate melts.
Pour the lukewarm cream over the rest of the strawberry coulis.
Pour into the molds and let stand in the refrigerator overnight.
Make the coulis with the rest of the strawberries, sweeten with 10g of icing sugar, then add the white rum.
Enjoy this dessert even after a good meal, it is light, full of color and aromas.
It is spring, the sun, the strawberries that happiness.
Preparation time: 30 minutes
Cooking time: 4 minutes
Number of people: 4
4 star rating: 1 review
What wine to drink with: Strawberry panna cotta
My favorite wine for this recipe: Champagne Premier Cru (White)
Temperature between 8 ° and 9 °