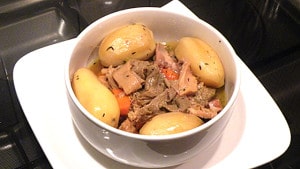 Recipe: Tripe with cider
Cider tripe recipe, or tripe in fashion. Blanch the tripe or buy white tripe directly from the butcher. Another version of tripe white wine recipe, it depends on tastes and also on the region where you are. Baking tripe in the oven, they cook overnight and cool directly in the oven, with the hot air of the new ovens the tripe cannot burn. With the tripe I like to put the potatoes immediately, they will cook slowly and flavor themselves, they will be tender. Be careful to take them out, they are almost candied and very fragile. I also really like the calf's feet which have been cooked with the tripe. Cider tripe is my favorite.
Hello,
As you must have noticed, I am particularly absent on the blogosphere. Coronary problems nail me in specialized circles, everything should be back in place after Easter. I regularly read your comments, which warm my heart. Thank you, I think of you all, big kisses Pascal
Recipe ingredients
Cider tripe recipe for 5 people:
1 kg of tripe
200 g bacon
1 calf's foot
1 large pork rind
2 cloves
1 l of raw cider
1 sprig of thyme
1 vegetable broth
1 bay leaves
2 teaspoons of coarse salt
½ powdered nutmeg
1 large spoonful of peppercorns
1.2 kg of agate potatoes
4 carrots
1 onion
Instructions
Order tripe from your butcher, they are sold already cleaned and often bleached.
Cut the tripe into cubes.
Cut the bacon into large cubes.
Clean and peel the carrots and potatoes.
Roughly cut the carrots into slices.
Peel the onion, prick with 2 cloves.
Heat the cast iron casserole dish with the rind turned over.
Place the meat and carrots on the bacon bard.
Add the thyme and bay leaf.
Grate the nutmeg.
Add the calf's foot cut in half and then in half again.
Drizzle with raw cider and vegetable broth, the tripe should be covered with liquid.
Store the potatoes.
Cover with the lid.
Leave to cook overnight at 150 °.
Let cool directly in the oven.
Preparation time: 40 minutes
Cooking time: 10 hour (s)
Number of persons :
4 star rating: 1 review
What wine to drink with: Cider tripe
My favorite wine for this recipe: Riesling Grape Riesling
Temperature between 7 ° and 8 °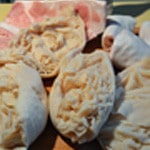 Rinse the tripe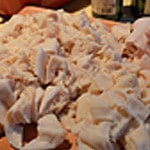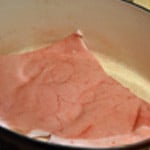 Put the rind on the bottom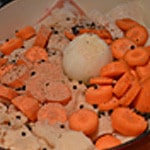 Add onion and carrots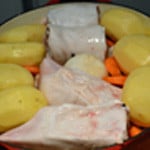 Place the calf's feet