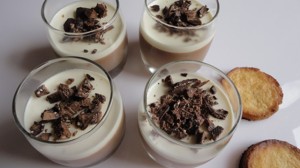 Recipe: Panacotta with suchard
Panacotta recipe with Suchard, here is a dessert that we will reserve for the most gourmet. A chocolate panacotta served in a small verrine, always a great moment at home. Another variation of panacotta, but it is true that we never tire of panacotta at home, children are always up for this kind of dessert. A cream and chocolate dessert and too bad for the diet, I fell in love with this Suchard panacotta. For the decoration, I added a white chocolate panacotta.
Recipe ingredients
Panacotta recipe with Suchard for 6 people:
6 Suchard bites
60 cl of liquid cream
1.3 Agar agar
1 tablespoon of icing sugar
80 g white chocolate
Instructions
Roughly chop the Suchard bites.
Reserve a few pieces of Suchard for decoration.
Heat the fluid cream with the agar agar.
Reserve 15 cl of cream for the white chocolate
Add the chocolate chips, off the heat and allow the chocolate to melt.
Let the preparation cool down.
Pour into the verrines, as soon as the preparation no longer smokes.
Place in the refrigerator or 1 or 2 hours.
Heat the rest of the cream.
Break the white chocolate then place it on the hot cream.
Gently pour the white cream into the verrines.
Place in the refrigerator or 1 or 2 hours.
Spread the Suchard chips on the white chocolate.
Preparation time: 20 minutes
Cooking time: 5 minutes
Number of people: 6
4 star rating: 1 review
What wine to drink with: Suchard panacotta
My favorite wine for this Rivesaltes recipe: Grenache noir grape
Temperature between 14 ° and 15 °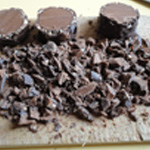 Crumble the chocolate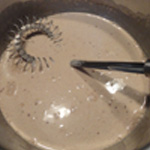 Heat the cream
Melting the Suchards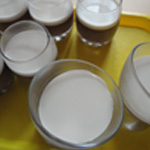 Pour into the verrines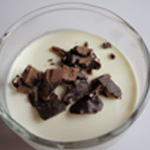 Suchard's break