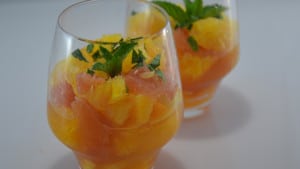 Recipe: Citrus salad
Citrus Salad Recipe, it must be recognized that for the moment when the sun is present it heats up. I had a friend who came, lunch at home, fish, vegetables and fruits on the menu. I like when she comes to eat, she has a particular way of seeing food, always very close to nature, recycling thoroughly, seasonal vegetables… I love it! I will keep her name silent, but she will recognize herself. Beautiful oranges with an old grapefruit that I had reserved for this purpose; a nice salad with citrus fruits, I flavored it with white rum, and yes we do not remake.
Recipe ingredients
Citrus salad recipe for 2 people:
2 Navel oranges
1 very ripe grapefruit
1 tablespoon of powdered sugar
4 teaspoons of white rum
4 mint leaves.
Instructions
Peel the citrus fruits.
Pull the supremes by removing the seeds.
Squeeze the skins to get as much juice as possible.
Add a spoon of powdered sugar.
Pour in the white rum.
Rinse then dry the mint.
Chop the mint, taking care to remove the central section.
Pour into the verrines, then refrigerate.
Preparation time: 15 minutes
Cooking time: 0 minutes
Number of people: 2
4 star rating: 1 review
What wine to drink with: Citrus salad
My favorite wine for this recipe: Clairette du Languedoc, Clairette blanche grape
Temperature between 06 ° and 09 °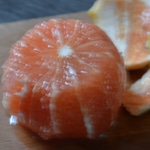 Peel alive
Leave to macerate in the mint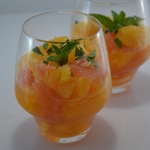 Zoom