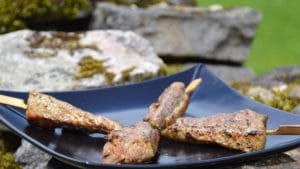 BBQ Duck Breast Recipe
Summary: I love spring and summer already and especially with the arrival of barbecues and long evenings under the trees with a very fresh rosé, no moderation we sleep there, only happiness. It was my friend Sam from the Charton butcher in Vesoul, who inspired me for this beautiful barbecue duck breast recipe. Lightly flavored with spices, the duck will remain tender if you do not overcook it, a duck breast should be pink. This barbecue duck breast recipe surprised us with its quality and flavor, the duck is well suited to this delicious experience. Now I will no longer hesitate to barbecue duck breast.
Barbecue duck breast recipe for 2 people
Ingredients :
1 duck breast
¼ teaspoon of 4 spices
¼ teaspoon ground ginger
¼ teaspoon of curry
Salt
Instructions
Slice the duck breast into two equal pieces lengthwise.
Slice the sticks to the size you want, be careful not too thin, they cook very quickly.
Combine the spices in a deep plate.
Roll the sticks in the spices.
Skewer the duck lengthwise with wooden skewers.
Cook on the hot barbecue plate.
Brown the skewers of duck breast for a few minutes on each side.
Enjoy hot.
Preparation time: 10 minutes
Cooking time: 3 minutes
Number of people: 2
4 star rating: 1 review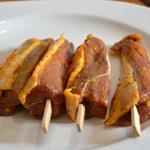 Salt then spice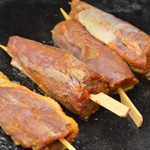 Sear on the plancha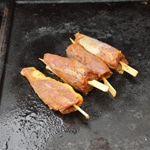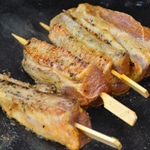 Cooked breast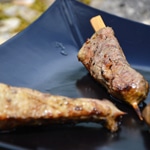 Zoom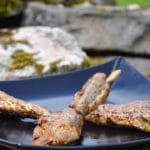 What wine to drink with: BBQ duck breast
My favorite wine for this recipe Gaillac rouge cuvée Mathieu Domaine Long Pech Grape variety: Fer Servadou, Duras, Syrah
Temperature between 16 ° and 17 °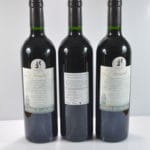 Gaillac red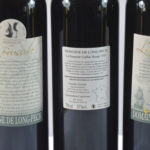 Red Gaillac Zoom
Domaine de Long Pech at Isle sur Tarn in the Tarn
A thought to all those connected from France or abroad in love with French cuisine and its wines, here is a great opportunity for you to buy a quality wine, without any risk, to accompany my duck breast recipe on the barbecue. I selected this red AOC Gaillac wine from the Domaine de Long Pech in Isle sur Tarn in the Tarn after tasting it, I loved it.
Gaillac red Mathieu 2015
Much smoother than its big brother, the compass cuvée, with dominant black fruits and particularly blackcurrant, a crimson color with some ruby nuance. Full and round on the palate, emphasized by a structure made up of coated tannins.
Long-pech domain
Lapeyriere
81310 L'Isle sur Tarn
Phone: 05 63 33 37 22
Email: karine@domaine-de-long-pech.com