Chicken Tagine with Red Wine Recipe
Summary: Tagine with red wine and smoked bacon, without adding any sweetness. A perfect success, but which remains a somewhat special recipe, sorry for the provocation, I just realized chicken and pork are not the favorite ingredients of tagines. Let the wine boil in the casserole dish in order to evacuate as much alcohol as possible, the chicken is divinely scented, it remains soft with this chicken tagine in red wine.
Red wine chicken tagine recipe for 6 people
Ingredients :
8 chicken thighs
300 g of smoked bacon
1 teaspoon of ginger
1 teaspoon of colombo
2 tablespoons of veal stock
½ bottle of red wine
1 onion
10 fresh Paris mushrooms
10 cherry tomatoes
Instructions
Preheat the oven to 200 °
Slice the bacon into small squares of 1 cm, brown them in the tagine (or a casserole dish).
Once grilled, reserve.
Brown your chicken pieces after having taken care to cut your thighs in half.
Add the ginger and the colombo and leave to toast a little longer.
Once grilled, store the thighs in your tagine starting with the top of the thighs then the drumsticks. Add the remaining vegetables and finish with the onion cut into rings.
In your casserole dish, heat the wine and add the veal stock.
Boil for 5 minutes, mix and pour into your tagine.
Bake in a hot oven 200 ° for 1 hour.
Preparation time: 20 minutes
Cooking time: 60 minutes
Number of people: 6
4 star rating: 1 review
What wine to drink with: Chicken tagine in red wine
My favorite wine for this Collioure rouge recipe Grape varieties: Carignan, Cinsault, Grenache noir
Temperature between 15 ° and 17 °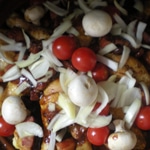 To cook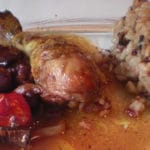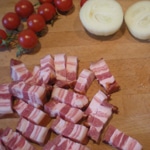 Ingredients