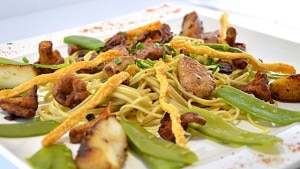 Recipes: Fresh pasta and pan-fried foie gras
Instructions
Recipe for fresh pasta and pan-fried foie gras, here is a very nice recipe to end this year, I still had foie gras. I like fresh pasta and of course foie gras, here lightly pan-fried, it will revive fresh pasta. Fresh pasta and pan-fried foie gras already the title is quite a program, plus I confit apples in duck fat. I like foie gras in all its forms in a dish towel and pan-fried of course, the Parmesan sticks have brought a little crunch here to the fresh pasta and pan-fried foie gras.
Recipe ingredients:
Fresh pasta and pan-fried foie gras recipe for: 2 people
200 gr of fresh pasta
120 gr of foie gras
50 gr of parmesan powder
25 gr eat everything
2 cooking apples
4 sprigs of chives
Instructions
Make the fresh pasta.
Heat the pan.
Cut the foie gras into cubes.
Season generously with salt and pepper.
Place the foie gras and set aside as soon as it is colored.
Peel the apples, remove the center and cut into quarters.
Cook the apples gently in the fat of the foie gras.
Turn them regularly, they should not burn.
Cook them all in a large volume of salted water.
Spread the grated Parmesan cheese in the stick mold.
Bake in the hot oven for 3 minutes at 200 °, then set aside.
Unmold the sticks as soon as they are cooled.
Cook the pasta in a large broth of water.
Bring the foie gras back to temperature.
Heat the plates.
Place the hot pasta on the plate.
Add the 4 apple pieces to the corners of the plate.
Place the mange tout and the Parmesan sticks.
Finish with the pan-fried foie gras cubes.
Add a little fat to the pasta and enjoy.
Preparation time: 30 minute (s)
Cooking time: 10 minute (s)
Number of people: 2
4 star rating: 1 review
What wine to drink with: Fresh pasta and pan-fried foie gras
My favorite wine for this recipe: Macon blanc Cépage Chardonnay
Temperature between 11 ° and 12 °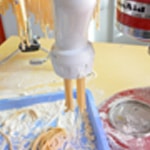 Make the pasta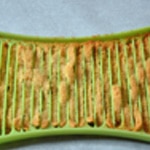 Grill the parmesan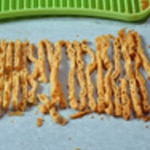 Unmould cold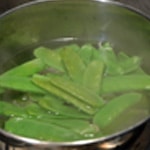 Blanch the coconuts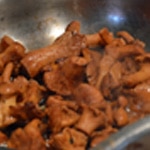 Cook the chanterelles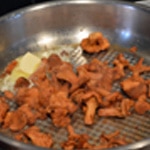 Add butter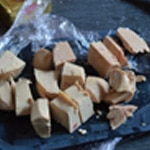 Slice the foie gras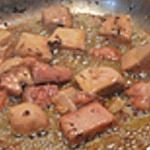 Sear in a hot pan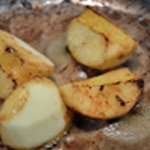 Bake the apples