Chicken in yellow wine
Instructions
Chicken recipe in yellow wine, a recipe from my region, Franche Comté. You will say after five years it was time for me to make this recipe. Be careful, the chicken must remain soft and the sauce must reduce to take on even more flavor. For lovers of yellow wine you can, before serving, add a little wine to the sauce. Of course the original recipe is with morels, but I cooked this chicken in yellow wine for my friend Elsa, and I voluntarily limited the costs. But it will be the occasion of a new recipe. With this kind of recipe, the problem is that you are always tasting the sauce. Be generous with the wine and the cream, the guests will devour it. Chicken in yellow wine, a great way to prepare for holidays.
Ingredients
Chicken recipe in yellow wine for 4 people:
1 yellow free-range chicken
40 gr of dehydrated porcini mushrooms
75 cl of yellow wine
50 cl of liquid cream
50 gr of butter
2 shallots
1 tablespoon of flour
Instructions
Cover the porcini mushrooms with lukewarm water.
Preheat the oven to 80 °.
Cut up the chicken, or have your butcher do it.
Cut the carcass in half lengthwise.
Grill the carcass already, color it well, then set aside.
Lightly flour the chicken pieces
Sear the chicken in a casserole dish with the butter, without coloring it too much.
Remove the fat in the casserole dish.
Peel then finely chop the shallots.
Sear the shallots and porcini mushrooms in the casserole dish, without letting them color.
Add a quarter of the yellow wine and 10 cl of porcini water to the casserole dish, reduce to dryness.
Add the cream and the chicken pieces.
Cook for about 15 minutes, then add the rest of the yellow wine.
Cook for another 15 to 20 minutes, so that the chicken is cooked.
Reserve the chicken in the hot oven and let the sauce reduce, it should be very smooth.
Add the chicken at the end of the reduction and serve on hot plates.
Preparation time: 30 minutes
Cooking time: 35 minutes
Number of people: 4 people
4 star rating: 1 review
What wine to drink with: Chicken in yellow wine
My favorite wine for this recipe: Savagnin yellow wine
Temperature between 15 ° and 16 °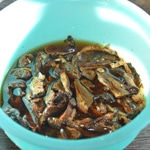 Porcini mushrooms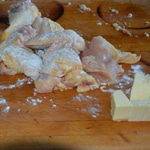 Cut the chicken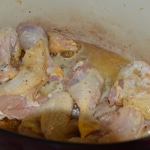 Add the yellow wine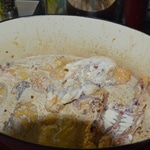 Add the cream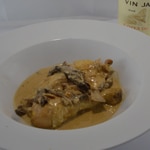 Zoom