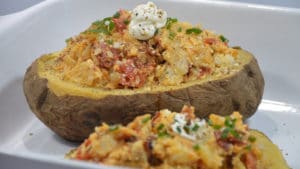 Chorizo Stuffed Potato Recipe
Tonight at home we're going to eat potatoes, I admit we don't eat them often, but with these Chorizo Stuffed Potato recipes, I like it. The chorizo brings a lot to this recipe, it divinely perfumes the flesh of the baked potatoes in the skin. The time indicated below depends primarily on the size of your potatoes, but it is rarely less than an hour and a half. Immediately unwrap the potatoes from the aluminum foil, so that they can evacuate all the concentrated moisture. I chose a beautiful Beaujolais a morgon to be more precise from the Gry Sablon house of Monsieur Morel to accompany my Potato stuffed with chorizo. Here is the meal of the evening! with a nice green salad and voila! Frankly we really liked this Potato stuffed with chorizo.
Potato stuffed with chorizo recipe for: 2 people
Ingredients :
2 Large bintje potatoes
15 cl of heavy cream
100 g sweet chorizo
2 onions
50 g grated Parmesan
30 g of grated Comté
1 tablespoon of olive oil
Ground pepper
Salt
Chives for decoration
Instructions
Rinse the potatoes under running water.
Wrap the potatoes tightly in aluminum foil.
Bake for 1h30 to 2 hours at 180 °
Let the potatoes cool, then hollow them out with a pomelo spoon.
Mash the potato with a fork.
Be careful to keep a little flesh around the potato.
Peel and finely chop the onions.
Heat a pan with olive oil.
Sear the onions in the hot fat without letting them color, they should crunch a little longer, set aside.
Slice the chorizo into small pieces, then sear it for a few minutes in the hot pan.
Toss the potatoes with the chorizo, onion, cream and cheese.
Salt and pepper.
Reconstitute the heart of the potato with the stuffing, give it a slightly rounded shape.
Put a few grains of coarse salt and sprinkle a little chives.
Place a knob of cream on the potato.
Crush the pepper and add to the potato.
Place in a hot oven at 180 ° for 20 minutes.
Preparation time: 30 minutes
Cooking time: 20 minutes
Number of people: 2
4 star rating: 1 review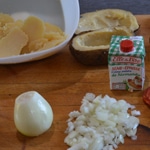 Ingredients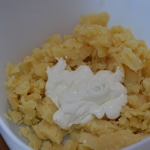 Add the cream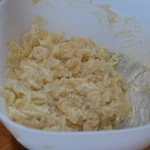 Salt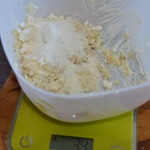 Add the parmesan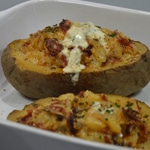 Zoom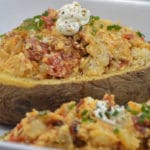 Potatoes stuffed with chorizo
What wine to drink with: Potato stuffed with chorizo
My favorite wine for this recipe: Morgon Douby Grapes Gamay
Temperature between 13 ° and 14 °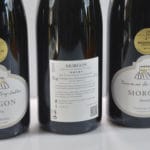 Morgon zoom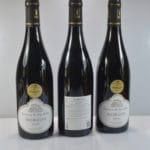 Morgon
Partnership with the Gry-Sablon estate in Emeringues in the Rhône
A thought to all those connected from France or abroad in love with French cuisine and its wines, here is a great opportunity for you to buy a quality wine, without any risk, to accompany my potato recipe stuffed with chorizo. I selected this Beaujolais wine, a Morgon Douby from the Gry-Sablon estate of Mr. Dominique Morel after tasting it, I loved it.
Morgon Douby:
Full-bodied and full-bodied wine but very harmonious, with a very crunchy juice and a dark purple color with some purplish reflections. Immediately it is a flavor of kirch or morello cherry, then red or black fruits dominate and finally a few nuances of ripe blackcurrant. Its tannic mouth reveals some aromas of vanilla, you will love this Beaujolais wine.
Domaine de Gry-Sablon
Dominique morel
The Chavannes
69840 Emeringes
Phone: 04 74 04 45 35
Email: contact@gry-sablon.com
Shops and prices. </p