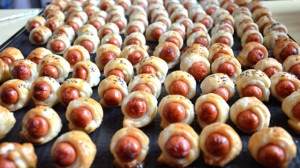 Recipe: Cocktail sausage puffs
Cocktail sausage puffs, I love these little puffs. I love the crispy side of the puff pastry and the sweetness of the little sausages. You can dip them in mustard or even ketchup, everyone will choose according to their tastes. I like to use cocktail sausages better than large knacks, it's much longer but frankly the result is worth the effort. I prepare in advance about two hundred puff pastry which I precook for 12 minutes, I will just have to draw from my reserve and finish cooking them frozen for 4 to 5 minutes, practice not. It's been a long time since I changed my recipe it must be said that it is basic but why make it complicated, when you can make it simple. My cocktail sausage puffs are going to be devoured at high speed, I love seeing my guests feasting on my preparations, I admit that I also like the compliments.
Recipe ingredients
Cocktail sausage puff pastry recipe for 46 pieces:
1 roll of puff pastry
46 mini sausages
2 egg yolks
Poppy seeds
15 minutes
Instructions
Roll out the very cold puff pastry.
Cut strips smaller than the sausages, the ends should protrude.
Roll the sausage on the puff pastry.
Stick with a little water as soon as the dough is covered.
Place the preparation without pressing it too much.
Brown with the egg yolk.
Sprinkle with the poppy seeds.
Pass in the hot oven for 15 minutes if you consume them immediately and 12 minutes if you freeze them.
Preparation time: 15 minutes
Cooking time: 15 minutes
Number of rooms: 46
4 star rating: 1 review
What wine to drink with: Cocktail sausage puffs
My favorite wine for this recipe: Chablis Cépage Chardonnay
Temperature between 08 ° and 10 °
Cut the puff pastry into strips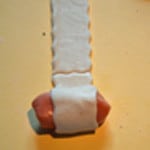 Roll over the sausage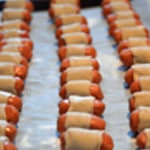 Store on a plate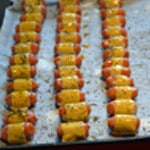 Brown with egg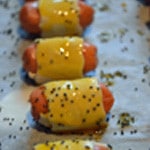 Zoom