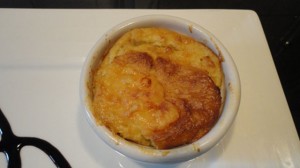 Recipe: Frog soufflé with Comté
Soufflé frog legs recipe. This frog legs recipe is baked, you can prepare it before. An easy and quick frog recipe to make, for a very original starter, the most difficult will be to debon the thighs. Creamy frog leg recipe, to change your habits, you will have a soufflé to enjoy very hot. A recipe from Franche-Comté with its traditional Comté, frogs abound in our ponds. A recipe with county. A spring county recipe, you can use frozen frogs, if you can't have fresh ones.
Recipe ingredients
Soufflé frog legs recipe for 4 people:
2 dozen frogs
2 eggs
2 shallots
20 cl of fluid cream
1 tablespoon of flour
40 g of Comté
1 egg
30g butter
1 tablespoon of olive oil
Salt and pepper
Instructions
Wipe the frogs with food paper, bone them.
Sear the shallots in a pan with the butter and oil;
Add the frog legs, salt and pepper.
Butter your gratin dishes.
In the bowl of the mixer, emulsify the cream with the egg and the frogs.
Add the flour, adjust the seasoning and mix again.
Garnish your ramekins.
Place a strip of Comté cheese on each ramekin.
Bake for 35 minutes in a hot oven at 200 °.
Serve at the end of cooking, be quick: your soufflé should not come down.
Preparation time: 20 minutes
Cooking time: 35 minutes
Number of people: 4
4 star rating: 1 review (s
What wine to drink with Soufflé Frog Legs
My favorite wine for this recipe: Alsace riesling, Grape variety: riesling
Temperature: between 8 ° and 9 °