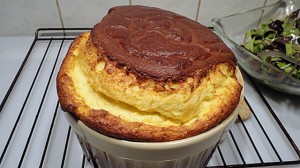 Recipe: Comté soufflé
County soufflé recipe, Kiki brought us from the Jura County, impossible not to make a Comté soufflé. Cheese soufflé recipe, this time I favored the county in my region, but the next few weeks I will be testing with other cheese. Cheese recipe, with us we are always ready for a new cheese recipe. I advise you to test with an old Comté, it will flavor your soufflé.
Recipe ingredients
Comté soufflé recipe for 4 people:
7 eggs
300 g of Shredded Comté
90 g flour
90 g butter
50 cl of milk
Nutmeg
Salt and pepper.
Instructions
Separate the eggs from the whites from the yolks.
Make the béchamel rather tight as here. By respecting the above doses.
The bechamel sauce should be thick.
Add the egg yolks off the heat.
Grate the Comté then incorporate it into your preparation.
Salt and pepper.
Grate half a nutmeg.
Whip the egg whites until stiff with a pinch of salt.
Stir in the whites and the cheese sauce.
Butter a blow mold.
Fill the mold ¾.
Bake in a hot oven, rotating heat at 180 ° for 40 minutes.
Enjoy hot.
Preparation time: 20 minutes
Cooking time: 40 minutes
Number of people: 4
4 star rating: 1 review
What wine to drink with: Soufflé au Comté
My favorite wine for this recipe: Château Chalon Cépage Savagnin
Temperature between 15 ° and 17 °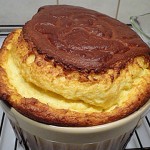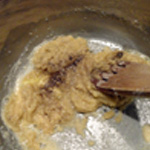 Gradually add milk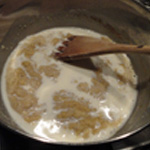 Stir in the milk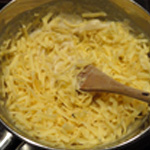 Add county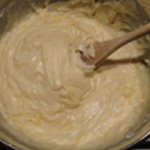 Incorporate the county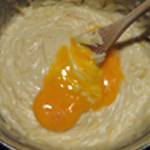 Add egg by egg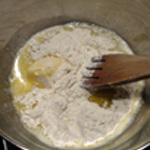 Milk and flour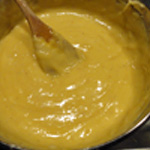 Incorporate the last eggs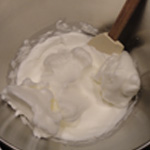 Beat the egg whites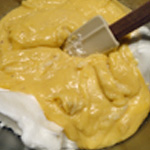 Incorporate the whites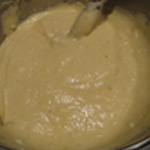 Ready to cook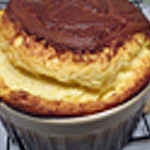 Zoom