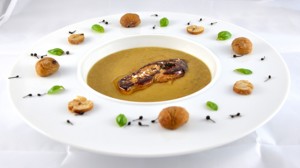 Recipe: Cream of chestnut and foie gras soup
Velvety recipe of chestnuts and foie gras, nothing like a good velouté as an appetizer for a large meal. I like soups that are out of the ordinary, at home we never eat the same soup, except for my daughter's favorite, small pasta soup, no comments. Here the soup is accompanied with a nice escalope of pan-fried foie gras on a round trip, the slice of foie gras rests on the velvety, a few crystals of fleur de sel for the decoration. Mariana the young chef who sharpened my taste buds with this recipe uses vinegar from balsamic cream, I used another large sherry vinegar much less sweet than balsamic.
Recipe ingredients
Recipe for 6 people: Cream of chestnut and foie gras soup
1 jar of chestnuts 420 g
1 carrot
20 g frozen finely chopped garlic
15g butter
1 tablespoon of frozen parsley
2 tablespoons of sherry vinegar
1 large onion
75 cl of water
4 escalopes of foie gras
Instructions
Peel the garlic, then finely chop it.
Heat a saucepan with the butter.
Peel the onion, then cut it into cubes.
Sear the garlic and onion in the very hot butter.
Add the parsley.
Add the chestnuts.
Peel the carrot, then cut it into cubes and add it to the pan.
Pour water.
Salt and pepper.
Simmer for 15 minutes.
Mixer.
Taste and adjust seasoning if necessary.
Slice the foie gras.
Heat a skillet over high heat.
Sear the escalope of foie gras for 2 to 3 minutes.
Heat the plates before serving.
Preparation time: 30 minutes
Cooking time: 15 minutes
Number of people: 6
4 star rating: 1reviews
Which wine to drink with: Cream of chestnuts and foie gras
My favorite wine for this recipe: famous Mouton Rothschild wine Grape variety Cabernet Sauvignon, Cabernet franc, Merlo
Temperature between 16 ° and 18 °
Order the wine click click here
Thank you to my friend Marina, who knew how to give me this wonderful recipe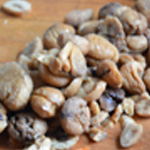 Wring the chestnuts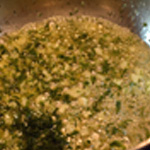 Sear the garlic and parsley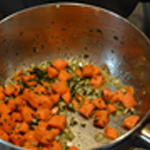 Sear the carrots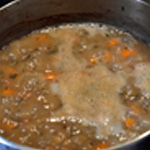 Add the broth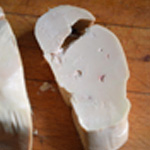 Salt and pepper the escalope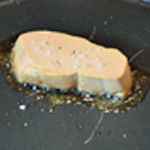 Sear the escalope in a very hot pan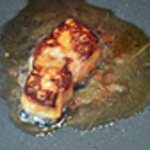 Turn the schnitzel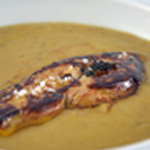 Zoom