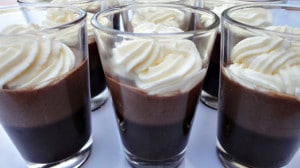 Recipe: Nutellat and chocolate panna cotta
Nutella and dark chocolate panna cotta recipe, a real killer for a recipe reserved for chocolate lovers. I just added a little whipped cream to relax the two chocolates, a verrine that left no one indifferent. Nutella verrine here we are all returned to childhood with this delicious taste known from our early childhood. This panna cotta remains one of my favorites, I love to prepare it and especially to devour it. But it is true that in the morning, I forbid myself to type in nutella, just the right to watch it. A recipe for great chocolate lovers Panna cotta Nutella and chocolate, just the title and I have the impression in taking advantage, it must be said that eb nothing makes me profit, that's how it is, go enjoy yourself!
Recipe ingredients
Nutella and chocolate panna cotta recipe for 6 people:
2 g of Agar Agar (you can do this with gelatin)
150 g of Nutella
25 cl of 33% liquid cream
125 g dark chocolate
40g caster sugar
40 cl of 33% liquid cream
Instructions
Heat 25cl of cream, from the first broth add 1 g of agar agar and cook for a minute.
Add the Nutella, incorporating it into the sour cream.
Distribute in the bottom of the verrines then leave to cool in the refrigerator.
Heat 40cl of cream, from the first broth add 1 g of agar agar and cook for a minute.
Add the dark chocolate, broken into small pieces, off the heat.
Cover and let the chocolate melt, mixed well, adding the sugar for a few minutes.
Let your preparation cool a little and then pour into the verrines over the Nutella.
You can use a funnel to prevent splashing.
Place in the very cold refrigerator overnight.
Preparation time: 15 minutes
Cooking time: 0 minutes
Number of people: 6
4 star rating: 1 review
What wine to drink with: Nutella and chocolate panna cotta
My favorite wine for this Crémant d'Alsace (white) recipe Grape varieties: Chardonnay, pinot blanc, Riesling
Temperature between 7 ° and 8 °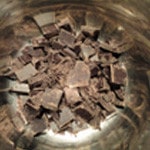 Breaking the chocolate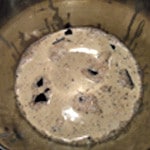 The chocolate melts in the cream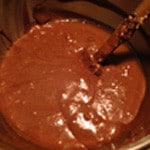 Melted chocolate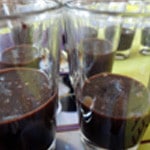 Pour the preparation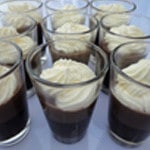 Chantilly for contrast