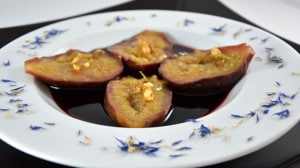 Recipe: Figs in wine
Recipe for figs in wine, they arrive on the market shelves. I love this fruit soaked in sun and sugar that comes to us from the south of France. It reminds me of my vacation in Miramas in the mouths of the Rhône, there was in the middle of the property a huge fig tree that must have been several decades old. In high season, this generous tree collapsed under its fruits and allowed itself to be marauded as if by relief. What a pleasure to bite into these hot sun-kissed figs. I offer you a red wine sauce for a majestic dessert, you will serve these figs in wine very cold, they will be even more appreciated with these scorching days. Of course this recipe applies to other fruits, I am thinking in particular of pears, but it will be part of another recipe, I already have some ideas that need to ripen a little.
Recipe ingredients
Figs in wine recipe for 2 people:
4 figs
1 star anise
1 cinnamon stick
1 teaspoon ground pepper
120 g sugar
20 cl of Corbière wine
Instructions
Heat 80 g of water with the sugar for the syrup, it should reach a temperature of 120 °.
Add the cinnamon and star anise, then the peppercorns.
Leave to marinate for half an hour.
Add the wine.
Heat over low heat to evaporate the alcohol for 5 minutes.
Gently place the figs in the hot preparation.
Cook the figs for 10 minutes under a very low heat.
Reserve the figs in the refrigerator.
Let the preparation reduce by half.
Pass the wine sauce to the Chinese.
Place the mulled wine in the refrigerator to cool it.
Preparation time: 10 minutes
Cooking time: 10 minutes
Number of people: 2
4 star rating: 1 review
What wine to drink with figs in wine:
Alsace pinot gris late harvest Pinot gris grape variety
My favorite wine for this recipe:
Temperature between 11 ° and 12 °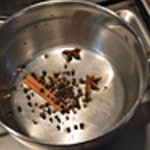 Add the aromatics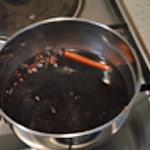 Pour the wine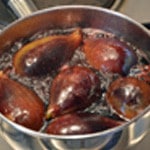 Cook the figs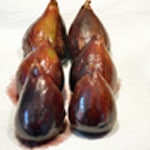 Cooked figs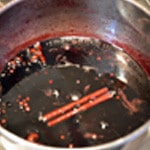 Reduce the sauce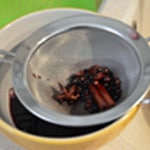 Filter the sauce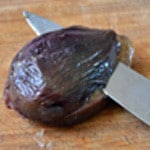 Slice the figs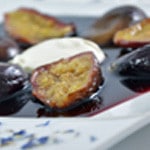 Zoom