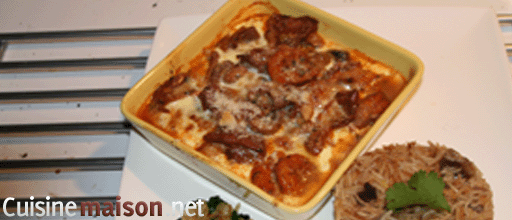 Fish Timpani Recipe
A fish recipe, squid recipe with a fillet of red mullet, add pink shrimps and a little Paris mushrooms for your pleasure and your timpani are ready. Timpani of fish, for a nice starter or even a main course for a dinner, you can use frozen fish, let it thaw well overnight, then dry it with paper towels. Just a downside, be careful not to overcook so that the fish is both soft and richly flavored.
Fish timpani recipe for: 4 people
Ingredients :
800 g of squid
200 g red mullet fillet
400 g of prawns
400 g fresh button mushrooms
3 teaspoons of olive oil
1 teaspoon of parmesan
1 glass of white wine
1 white onion
4 sprigs of flat-leaf parsley
2 sprigs of coriander
1 tablespoon of sweet paprika
Instructions
Strip the shrimp and put the shells and heads in the pan.
Add the paprika and the white wine left to reduce.
Filter the juice through a Chinese and set aside.
Clean the squid and remove the skin on the body and the tentacles, rinse them with plenty of water.
Cut the squid in circles and brown them with 1 teaspoon of oil.
Chop the coriander with a knife and add it to the squid, as soon as the squids have rejected their water.
Add the shrimp cook for 3 minutes then set aside.
Heat the pan with 1 teaspoon of olive oil.
Slice the onion into small pieces, brown them in a very hot pan.
Add the red mullet with the chopped parsley, then set aside.
Brown the mushrooms as soon as they have rejected their water to keep them a little crunchy.
Add all the ingredients, the glass of filtered juice.
Simmer for a few more minutes.
Fill the timpani.
Add the Parmesan and au gratin in a hot oven 200 ° for 10 minutes.
Preparation time: 20 minutes
Cooking time: 10 minutes
Number of people: 4
4 star rating: 1 review
What wine to drink with: Fish timpani
My favorite wine for this recipe Beaune (Red) (Grape varieties: Pinot noir)
Temperature between 13 ° and 14 °