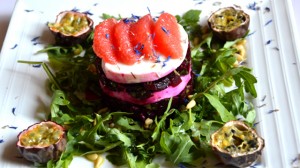 Recipe: Beetroot salad
Beetroot salad recipe for a nice starter. They were cooked, too bad I would have liked to cook them in aluminum in the oven. Bake red beets in the oven, try it once, you will see it change its taste. A cold starter to start a meal off right, beetroot is as good as it tastes. In this recipe I added a little grapefruit to bring a little acidity to avoid adding vinegar.
Recipe ingredients
Red beet salad recipe for 4 people:
3 beautiful red beets
10 sprigs of parsley
3 shallot cloves
½ lemon
1 grapefruit
Salt and pepper
A few dried blueberry flowers.
8 passion fruits
2 tablespoons of olive oil
250 gr Mozzarella
Instructions
Peel the beets with gloves, then cut into small cubes.
Peel the shallots.
Rinse the parsley, then hull it.
Finely chop the parsley with the shallots.
Toss the red beets with the parsley and shallots.
Salt and pepper.
Add the juice of ½ lemon and that of the grapefruit.
Add olive oil and mix.
Peel the grapefruit raw, recover the nicest quarters.
Cut the mozzarella with the stainless steel cylinder.
Slice the mozzarella.
Assemble the starter, starting with the red beets.
Add a slice of mozzarella.
Add beetroot and finish with a slice of mozzarella.
Place the grapefruit slices.
Sow some blueberry flowers.
Spend half an hour in the refrigerator before unmolding.
Decorate before serving with the passion fruit cut in half.
Preparation time: 20 minutes
Cooking time: 0 minutes
Number of people: 4
4 star rating: 1 review)
What wine to drink with: Beetroot salad
My favorite wine for this recipe: Rosé d'Anjou Grape variety cabernet Franc and Cabernet Sauvignon
Temperature between 10 ° and 12 °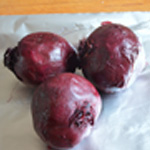 Peel the beets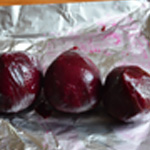 Cut into slices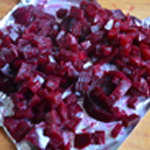 Cut into cubes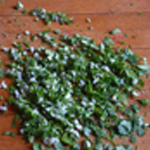 Chop parsley and garlic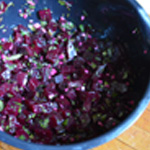 To mix together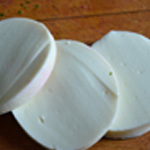 Slice the mozarella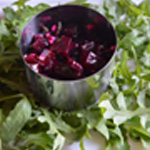 Add the beets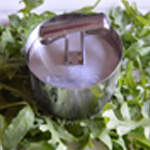 Press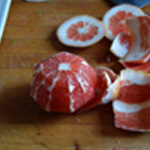 Peel the grapefruit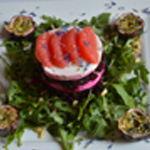 Lay the fruits of passions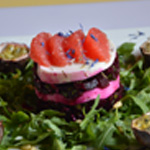 Zoom