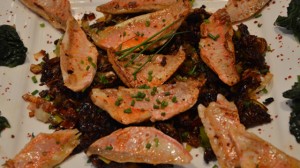 Recipe: Red mullet fillet with sundried tomato compote
Recipe for red mullet fillet with sundried tomato compote, a starter in memory of our vacation in the south. The red mullet are cooked with the oil of the tomatoes, flavored to perfection. Tomatoes in the pan, you will use the oil from the tomato jar, already fragrant it will enhance your red mullet dish. A recipe based on sun-dried tomatoes preserved in oil. They are often exceptional in flavor and remain a not too expensive product.
Recipe ingredients
Recipe Red mullet fillet for 4 people:
8 red mullet fillets
2 leek whites
1 shallot
100 g of sundried tomatoes or a small jar
1 tablespoon of dried oregano
30g butter
Instructions
Peel the shallots, then finely chop them.
Peel the leeks, then finely chop them.
Crush the sun-dried tomatoes
Heat the butter and a spoonful of oil from the tomatoes in a pan
Sear the leek.
Add the shallots and tomatoes.
Add a tablespoon of oil from the jar of sundried tomatoes.
Spread the tomatoes outside the pan, so you can sear the red mullet fillets.
Sear the red mullet fillets in the pan for a few minutes.
Turn the fillets over and finish cooking 1 to 2 minutes.
Sprinkle with oregano.
Preparation time: 10 minutes
Cooking time: 6 minutes
Number of people: 4
4 star rating: 1 review
What wine to drink with: Red mullet fillet
My favorite wine for this recipe: Bourgogne Aligoté Cépage Aligoté
Temperature between ° 08 and 10 °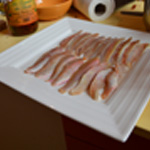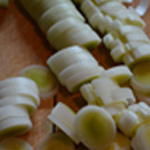 Cut the leek into slices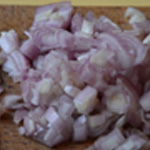 sliced shallots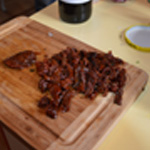 Crush the tomatoes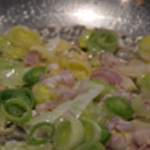 Sear the leeks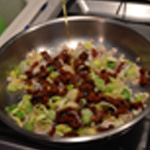 Add the tomatoes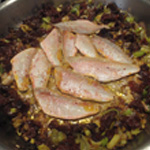 Add the red mullet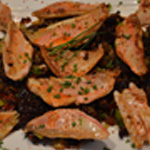 Zoom