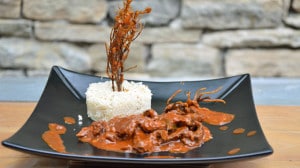 Recipe: Flamante Carbonnade
Flemish stew recipe, delicious beef cheek cooked in beer for a long time and gently, we loved tasting this very tasty meat. I like beef which cooks slowly and for a long time, I like paprika which will slowly develop all its flavor. A very nice recipe that comes from Belgium, our cousins and neighbors, of course the choice of beer is important. You can use several pieces of beef, but be careful to adapt the cooking of the meat.
Recipe ingredients
Flemish Carbonnade recipe for 4 people:
600 g beef cheek or round gite
2 onions
1 shallot
20 g of garlic
1 bouquet garni
2 carrots
3 beers of 25 cl
1 small can of crushed tomatoes
50 g butter
1 tablespoon of oil
1 tbsp Paprika
1 tablespoon of breadcrumbs.
Salt and pepper
Instructions
Cut the beef cheeks, then slice into strips.
Peel the onions, shallots and garlic.
Cut into small cubes.
Peel and then cut the carrots into small cubes.
Sear the meat in the fat, brown them well.
Reserve the meat.
Sear the shallots and onions.
Add the carrot cubes.
Add the garlic for a few minutes.
Add the meat and tomato sauce and the bouquet garni.
Sprinkle with paprika and pepper.
Wet with beer.
Simmer over low heat for 4 hours.
Watch the cooking and add water if the sauce reduces too much.
Salt at the end of cooking according to your tastes.
Add the breadcrumbs.
Preparation time: 30 minutes
Cooking time: 3 hours
Number of people: 4
4 star rating: 1 review
What wine to drink with: Carbonnade Flamande
My favorite wine for this recipe: Gamay Grape Windmill
Temperature between 13 ° and 14 °
Thank you to Kiki for this beautiful recipe and which gave us the benefit of his know-how.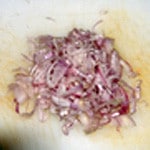 Slice the shallots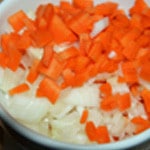 Cut the carrots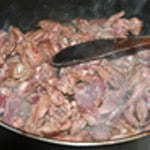 Sear the meat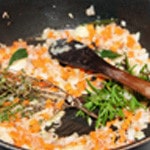 Add the vegetables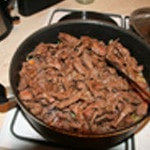 Ready meat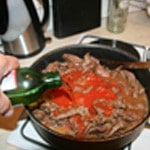 Wet with beer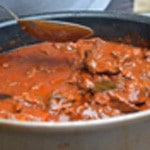 Let reduce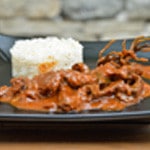 Zoom