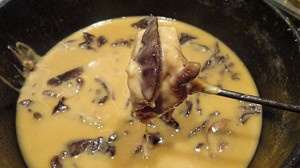 Recipe: Cep fondue
Recipe for mushroom fondue. The cheese fondue always a pleasure to taste this time I flavored it with porcini mushrooms, another taste, it was divine. The secret to a successful cheese fondue is to choose several cheeses and melt them slowly. Here is a cheese recipe for an evening meal, quick and easy it's always a moment of relaxation around the fondue pot with porcini mushrooms
Recipe ingredients
Cep fondue recipe for (4 people)
300 g of Comté
200 g of Beaufort
300 g of Appenzell
200 g Swiss Gruyere
4 dl of Jura coast
3 turns of nutmeg
3 cloves of garlic
40 gr of dried porcini mushrooms
1 egg
Pepper
Instructions
Pass the fondue pot with garlic.
Cut the cheeses with a mandolin (large holes) and place them in the caquelon.
Add 3 turns of ground pepper or a ½ teaspoon of ground nutmeg.
Add the white wine.
Prepare the bread by cutting it into slices each one can then cut the bread to the desired size (as in Switzerland).
Place the fondue pot on a support and gently melt the cheese, stirring constantly. The time to melt the cheese allows you to drink the aperitif, to enjoy the guests.
Add the porcini mushrooms as soon as the cheeses have melted.
Once the fondue is eaten, you can crack an egg and taste the nun (crust formed at the bottom of your fondue pot).
Preparation time: 30 minutes
Cooking time: a few minutes
Number of people: 4
4 star rating: 1 review
What wine to drink with: Cep fondue
My favorite wine for this Côtes-du-jura (White) recipe (Grape varieties: Chardonnay, Savagnin)
Temperature between 7 ° and 8 °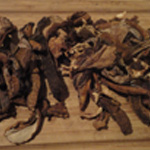 Dried porcini mushrooms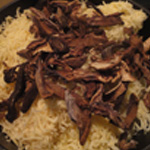 Mix with cheese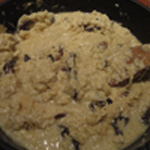 Heat gently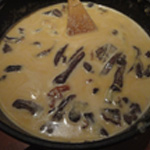 Ceps swim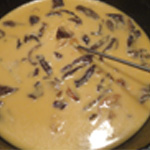 Ready