<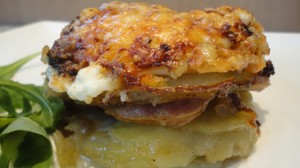 Recipe: Gratin franc Comtois
Recipe Gratin Franc comtois, this is how the Franc Comtois cook potatoes and of course from the Comté, this Franc Comté gratin is baked in the oven. The gratin franc comtois a real winter gratin, here in this recipe I cooked it in individual portions just for fun. A potato gratin recipe for an evening by the fireplace, the Franche-Comté gratins will cook in 30 minutes then it will be necessary to gratinate with a Comté du jura, for another 10 minutes. The Franche-Comté gratin will cook gently, stuffed with a Morteau sausage, it will gently flavor this potato gratin.
Recipe ingredients
Gratin Franc comtois recipe for 4 people:
1 kg of potato
200 g of Comté
1 Morteau sausage
1 tablespoon of olive oil
4 tablespoons of fluid cream
Salt and pepper
Instructions
Peel and rinse the potatoes.
Cook the sausage for 15 minutes in water, starting cold.
Thinly slice the Morteau sausage once cooled.
Oil the circles with olive oil or better yet line with food paper.
Fill a quarter of the circles with the potatoes.
Cover with a layer of Comté.
Add the slices of Morteau sausages.
Repeat with a row of potatoes.
Bake in a hot oven at 180 ° for 20 minutes.
Cover the preparation with the Comté and cook for another 10 minutes.
Unmould and serve hot.
Preparation time: 20 minutes
Cooking time: 30 minutes
Number of people: 4
4 star rating: 1 review
What wine to drink with: Gratin Franc comtois
My favorite wine for this recipe: Red Arbois Grape variety: Poulsard, Trousseau, Pinot noir
Temperature between 8 ° and 9 °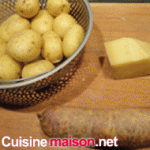 Ingredients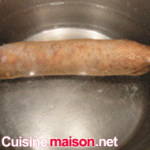 Cook the Morteau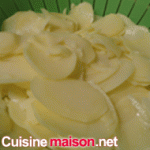 Cut the potatoes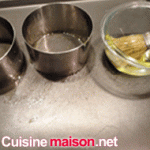 Oiling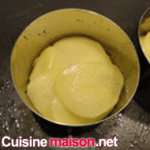 Potatoes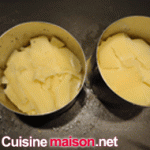 The count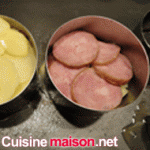 La Morteau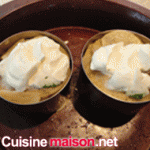 Cream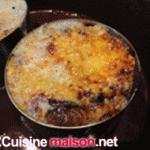 Gratin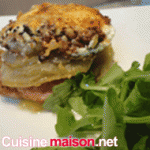 On a plate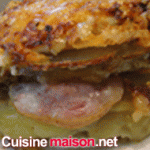 Zoom