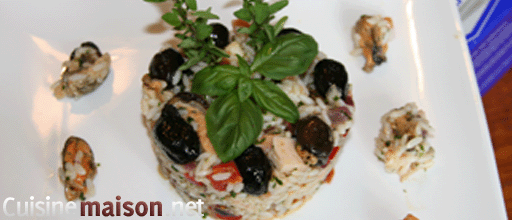 Octopus and Mussel Salad Recipe
Octopus salad, I like to cook octopus, it reminds me of great vacation memories in Greece, here is a sea salad. Cooking octopus in a saucepan with a full-bodied broth. The stern needs cooking long enough to be eaten, it always stays a little hard, but that's what makes its charm. When tasted in restaurants with your feet in the water, they are always very fragrant and rarely hard, but the Greeks are the specialists. A nice salad of octopus and mussels to eat under the trees on a hot day.
Recipe for Octopus and mussels salad: 6 people
Ingredients :
500 g of octopus
200 g of mussels
100 g of prawns
1 onion
2 tomatoes
1 lemon
18 black olives
50g rice
3 tablespoons of olive oil
1 clove of garlic
¼ of a bunch of parsley
¼ of a bunch of fresh thyme
Instructions
Trim the octopus then cook it in a saucepan with a large volume of water.
Add a bay leaf, a stalk of celery, 3 cloves.
Simmer for 45 minutes at low broth.
Let the broth cool.
Cut the octopus into small pieces.
Peel the onion and crush the tomatoes.
Cook the mussels in a saucepan with a little white wine, let them cool then remove the shells.
Cook the rice and let it cool.
Remove the shrimp from the shell.
Rinse then finely chop the parsley.
Mix everything in a bowl with 3 tablespoons of olive oil and lemon juice.
Add the thyme, without the stems.
Add the green olives.
Preparation time: 30 minutes
Cooking time: 45 minutes
Number of people: 6
4 star rating: 1 review
What wine to drink with: Octopus and mussel salad
My favorite wine for this recipe: Mâcon blanc grape Gamay Cépages
Temperature between 13 ° and 14 °