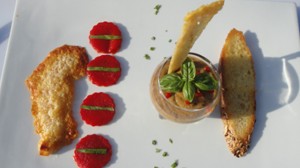 Recipe: Zucchini gazpacho
Zucchini recipe, here is my zucchini gazpacho, the garden is full of them and the sun has answered our call. A very fresh starter full of flavor, to start a barbecue day, I added for the color of the red peppers. The zucchini soup that comes to us from Spain in the La Mancha region to be enjoyed under a scorching sun. You will be won over with this cold zucchini soup, you need to taste it as you make it, because the zucchini gazpacho must be well seasoned.
Recipe ingredients
Zucchini gazpacho recipe for 8 people:
1 courgette of 600 g
½ teaspoon of nutmeg
1 teaspoon of sweet paprika
2 tablespoons of olive oil
¼ teaspoon ground ginger
6 slices of stale bread
2 cloves garlic
30 gr of butter
2 tablespoons of balsamic vinegar
1 hazelnut of harissa
½ teaspoon of tomato paste
80 gr of parmesan in pieces
Instructions
Wash the zucchini in clean water, dry them with absorbent paper.
Cut the courgettes into lengths and then into small squares.
Pour the zucchini in a baking dish.
Add the spices, then pour in the olive oil.
Place in a hot oven at 200 ° for 20 minutes.
Heat the pan with a tablespoon of olive oil and the butter.
Sear the minced garlic.
Toast the bread in the pan.
Mix the bread with the garlic and the cooking fat.
Add the half-cooked zucchini and mix to mix the preparation well.
Pour in the balsamic vinegar.
Add a tablespoon of olive oil
Taste salt and pepper.
Add the harissa and the tomato puree.
Cut the piece of Parmesan into 8 strips.
Place in a hot oven at 250 ° for 8 minutes.
Preparation time: 10 minutes
Cooking time: 8 minutes
Number of people: 8
4 star rating: 1 review
What wine to drink with: Zucchini gazpacho
My favorite wine for this Roja rosé recipe Grape variety: Tempranillo
Temperature between 7 ° and 10 °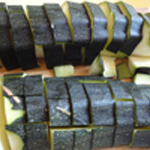 To cut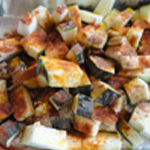 Spice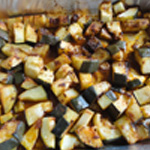 To cook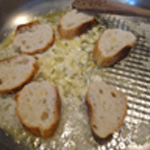 Toast the bread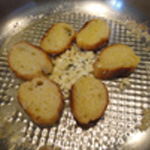 To return to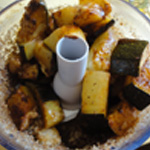 Mixer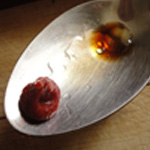 Hazelnut of harissa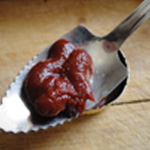 Tomato concentrate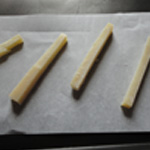 Parmesan stick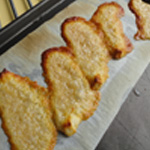 Parmesan Tile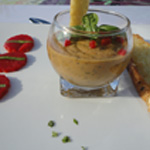 Verrine