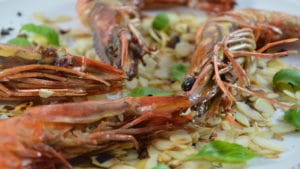 Whiskey Flambé Gambas Recipe
Whiskey flambé prawns recipe. Gambas whiskey a recipe easy to cook in a pan or even on a barbecue. A quick recipe for flambéed prawns, I used frozen ones, this allows me to always have some in reserve for unforeseen visits. The whiskey divinely scented these little damsels of the seas, not always easy to taste, but so tasty, I loved these whiskey flambé prawns. Today we find prawns everywhere, on the other hand they are rarely fresh and especially of small sizes, the enormous ones are often much too expensive. Gambas flambéed with whiskey a small green salad and the evening meal is ready.
Whiskey flambé Gambas recipe for 4 people
Ingredients :
24 prawns
2 tablespoons of flaked almonds
15g butter
1 tablespoon of olive oil
15 cl of white wine
Salt and pepper
Instructions
Rinse the prawns under running tap water.
Remove the prawns, reserving the carcasses and heads.
Dry cook the almonds in a warm pan, let them take a nice color then set aside.
In the pan, grill the carcasses and the heads with the spoonful of olive oil then add the white wine.
Salt and pepper.
Let reduce for about 15 minutes almost dry.
You should have about 2 tablespoons of juice.
Sear your prawns in the juice, be careful, they must not overcook and the flambé will finish cooking.
Turn your prawns over then throw the alcohol in the pan.
Flambé. Be careful, the flames can be cruel.
Serve with a little juice.
Preparation time: 10 minutes
Cooking time: 2 to 4 minutes
Number of people: 2
4 star rating: 1 review
What wine to drink with: Gambas flambéed with whiskey recipe
My favorite wine for this white Macon recipe Grape variety: Pinot blanc, Chardonnay
Temperature between 11 ° and 13 °