Recipe: Cream and Comté puff pastry
Cream and Comté puff pastry recipe, to start a meal, crispy they will not resist the onslaught of the aperitif. I like to prepare small treats for the aperitif, I often finish the leftovers in my fridge. In this recipe, Comté has its place, we often favor Franche Comté cheese. In addition, it easily browns in the oven and retains its taste but becomes a little crisp, which further adds to its charm. Comté cheese from Haut Doubs and Jura, a generous cheese worthy of old traditions.
Recipe ingredients
Cream and Comté puff pastry recipe for about 23 pieces:
1 roll of puff pastry
15 cl of liquid cream
100 g of Comté
1 tablespoon of poppy seeds
Instructions
Preheat the oven to 200 °, for cooking in the middle of the oven.
Take out the puff pastry 15 minutes before rolling it out.
Cut the Comté into small cubes.
Roll out the puff pastry.
Use a cookie cutter to cut the circles barely larger than the silicone impressions.
Place a circle by imprint by placing it a little at the bottom.
Pour a teaspoon of fluid cream.
Place a county cube in each footprint.
Pepper generously.
Sprinkle poppy seeds in the indentations.
Bake for 15 to 20 minutes and leave to brown.
Serve lukewarm but above all not hot.
Preparation time: 10 minutes
Cooking time: 20 minutes
Number of people: 12
4 star rating: 1 review
What wine to drink with: Cream and Comté puff pastry
My favorite wine for this recipe: Côte du Jura blanc Grape variety: Savagnin blanc, Chardonay and pinot blanc
Temperature between 10 ° and 12 °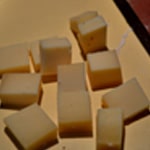 Cut the county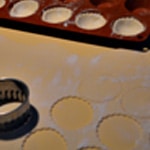 Cut circles
Put a little cream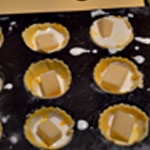 Place one piece per impression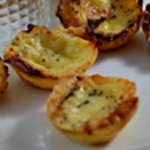 Zoom