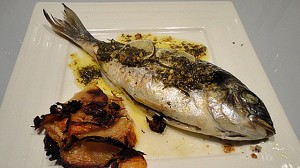 Recipe: Royal sea bream
Recipe for sea bream or sea bream (two possible spelling), here a sea bream stuffed with sorrel accompanied by sorrel pesto. The acidity of sorrel sweetens with olive oil, raisins, pine nuts a flavor blend for a happy marriage. The sorrel pesto can of course accompany other fish, I have not added parmesan to this pesto, so as not to distort the taste of the sea bream. This week the sea bream were in promotions in my store, I took advantage of it, other recipes will arrive on this site.
Recipe ingredients
Recipe of gilthead sea bream with sorrel for 3 people:
3 royal sea breams
2 bunches of fresh sorrel
75 g pine nuts
50 g of grapes
20 cl of olive oil
30g butter
1 clove of garlic
½ lime
Instructions
Preheat the oven to 210 °, grid
Empty and scale the sea bream or have it done by the fishmonger.
Wash the fish, then dry them with food paper.
Wash and hull the sorrel stems.
Peel and finely chop the garlic.
Add half of the pine nuts.
Finely crush half the sorrel with the grapes and garlic.
Place the preparation in a bowl, salt and pepper.
Add 1 teaspoon of olive oil
Stuff the sea bream with the sorrel mixture.
Lightly tie the sea bream.
Season with salt and pepper on both sides.
Butter a baking dish.
Place each sea bream in the dish.
Drizzle each sea bream with a teaspoon.
Cook the sea bream for 25 minutes.
Prepare the sorrel pesto.
Toast the pine nuts in a dry pan.
Crush the pine nuts and the rest of the sorrel with a knife.
Add olive oil and mix.
Heat the pesto just before serving without letting it boil.
Serve the sea bream drizzled with the pesto.
Preparation time: 10 minutes
Cooking time: 25 minutes
Number of people: 2
4 star rating: 1 review
What wine to drink with: Royal sea bream
My favorite wine for this recipe: Saint Joseph blanc Cépage Roussane; Marsanne
Temperature between 15 ° and 17 °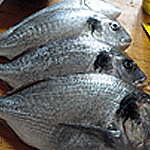 Rinse the sea bream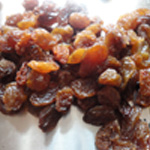 Crush the grapes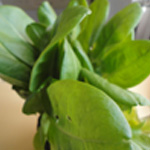 Rinse the sorrel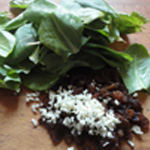 Stem the sorrel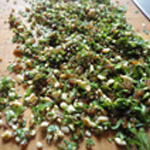 Crush all the ingredients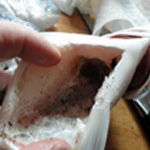 Open the sea bream.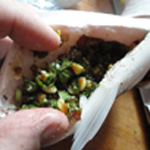 Stuff the sea bream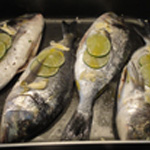 Cook in the oven