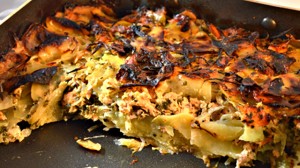 Recipe: Salmon gratin
Recipe for salmon gratin with potatoes, a complete dish for entertaining friends, I received my little sister who is vegetarian, not always easy to find menus without meat, when you are a carnivore like me. Salmon recipe, the salmon was on sale, it was whole, very fresh, I loved cooking it. We fell in love with these deliciously flavored potatoes with salmon and terribly tender.
Recipe ingredients
Salmon gratin recipe for 12 people:
1 salmon of about 2 kg
3 kg of Agata potato
1 kg of onion
50 cl of Edelwicker dry white wine
50 cl of fluid cream
1 bunch of parsley
2 carrots
1 leek
15g butter
Salt and pepper
Instructions
Rinse the salmon.
Wash and cut the potatoes into very thin slices.
Peel the carrots.
Trim and cut the leek.
Place the salmon in a baking dish.
Generously season the inside of the salmon with salt and pepper.
Add whole carrots and leek.
Place in a hot oven at 200 ° for 20 minutes.
Let the salmon cool.
Remove the leaves from the salmon.
Peel and finely chop the onions.
Toss the potatoes with the onions.
Rinse and chop the parsley.
Add the parsley to the potatoes.
Butter a dish and arrange half the potatoes mixed with the onions.
Add a layer of salmon.
Cover with the rest of the potatoes.
Pour in the white wine and the fluid cream.
Pass in a hot oven at 180 ° for 2 to 3 hours, 3 hours and the potatoes will be candied.
Make sure that the gratin above the potatoes is not burnt, if it cooks too quickly, place a sheet of aluminum foil on your dish.
Preparation time: 45 minutes
Cooking time: 2 to 3 hour (s)
Number of people: 12
4 star rating: 1 review
What wine to drink with: Salmon gratin
My favorite wine for this recipe: Edelzwicker Cépage Chasselas, Sylvaner, Riesling
Temperature between 08 ° and 10 °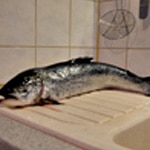 Rinse the salmon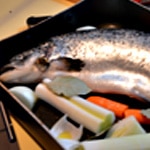 Cook the salmon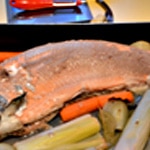 Remove the skin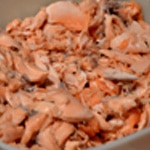 Strip the salmon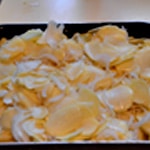 Cut the potatoes into strips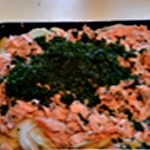 Add the parsley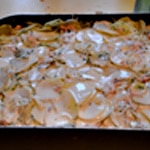 End with a row of pdt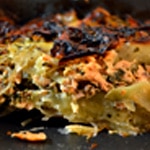 Zoom