Brioche salmon recipe
Instructions
Brioche-crusted salmon recipe. The cooking of salmon steak in the oven to succeed it is necessary to cook 12 minutes in a hot oven at 180 °. A nice recipe with this brioche salmon, with a perfect cooking this recipe was delicious.An easy to make brioche crusted salmon recipe, rather quick it will surprise your guests. A new way of cooking salmon steaks cooked with parsley butter and flavored with hazelnuts, we loved this salmon with brioche.
Brioche salmon recipe for 4 people:
Ingredients
600 g of salmon steak
100 g of stale brioche
80 g whole hazelnuts
1 bunch of parsley
100 g butter
1 clove of garlic
Salt and pepper.
Instructions
Rinse the fish in clean water, then dry it with food paper.
Run your hand over the fish to make sure there is no bone left.
Rinse the parsley and dry it with food paper.
Chop the parsley with a knife finely with the peeled clove of garlic.
Roughly cut the hazelnuts with a knife and mix with the parsley.
Mix the brioche and mix everything.
Add the soft butter, knead and mix by hand.
Let sit in the refrigerator for an hour.
Place the dough between two baking sheets, then roll out with a rolling pin to obtain a 1 ½ cm strip
Cut out the shape of your pavers on the rolled out dough.
Place a strip of butter brioche on each slab of salmon
Bake in a hot oven at 180 ° for 12 minutes.
Preparation time: 15 minutes
Cooking time: 12 minutes
Number of people: 4
4 star rating: 1 review
What wine to drink with Brioche Salmon
My favorite wine for this Givry Grape variety recipe: Pinot noir
Temperature between 13 ° and 15 °
Thanks to Catherine du Château de roche for this recipe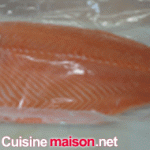 The salmon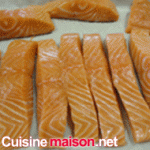 Slice the salmon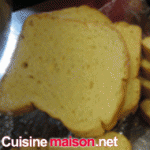 Crush the brioche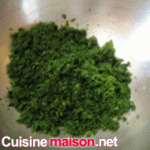 Chop the parsley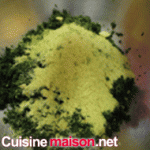 Parsley and brioche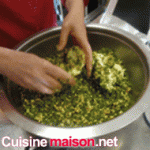 Knead by hand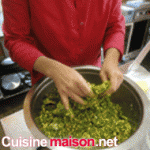 Homogeneous paste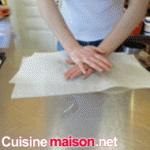 Flatten with the palm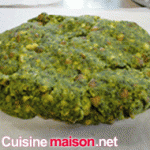 Even finer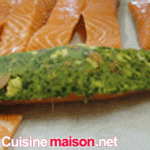 Garnish the top of the paving stone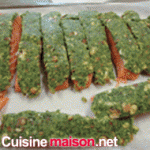 Ready to cook