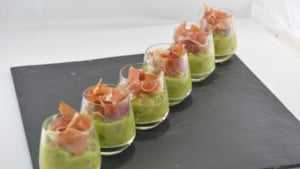 Guacamole with ham recipe
Guacamole and ham recipe, here are some nice little verrines that I served for the aperitif. We tasted them with a few taps of the spoons, I loved the guacamole with its color and its slightly spicy side. I was very reserved on Tabasco because Grandma Denise was coming to lunch. The origins of guacamole come directly from Mexico, just the base avocado, water, chili and red or even green tomato. It was then the Spaniards who added the onion and coriander. This is my favorite version, I like the little taste that raw onion brings. Some like me add a little olive oil, it fixes the color and diffuses the taste. As I wanted to present it in a glass, I added a good raw ham, just for fun, we tasted the guacamole and ham with a teaspoon. Ideal to whet your appetite, no bread or crunchy things, because today's menu was generous enough. I did not find any fresh coriander this morning, I had to fall back on dehydrated coriander, I sowed it directly on the tomatoes in order to rehydrate them. Finally, choose very ripe avocados, they are a little soft in the palm of your hand.
Recipe ingredients
Guacamole and ham recipe for 8 people:
3 ripe avocados
1 small tomato
2 teaspoons of olive oil
¼ onion
3 drops of Tabasco
1 teaspoon of dried cilantro (it is better to add fresh cilantro)
Instructions
Rinse then dry the tomato, crush with a knife, recovering its juice.
Sprinkle the dried cilantro directly over the tomato.
Peel the onion and cut as thin as possible, then add to the tomato.
Season generously with salt and pepper.
Cut the avocados in half and remove the pit, being careful at most one hour in advance.
Crush the avocado with the pestle directly in a mortar.
Roughly mix all the ingredients.
Gradually add the Tabasco, tasting as you go.
Place the guacamole at the bottom of the verrines, tap the verrines a little on a tea towel to compact them.
Cut the raw ham on a board, then add it to the verrines.
Store the verrines in the refrigerator in the vegetable drawer.
Preparation time: 20 minutes
Cooking time: no cooking
Number of people: 8
4 star rating: 1 review
What wine to drink with: guacamole and ham
My favorite wine for this recipe: Côte du Rhône blanc Cépage Viognier
Temperature between 08 ° and 10 °
Source information: an article on real-recipe-guacamole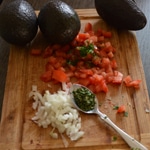 Ingredients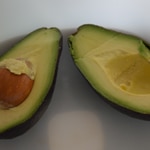 Cut the avocados in half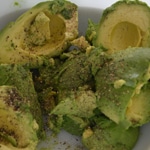 Remove the kernel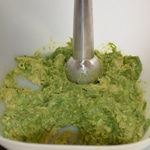 Coarsely crush with a pillon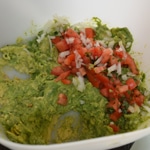 Add tomato and onion