Nettle Soup Recipe
Here is the last recipe after my visit to the woods last Sunday, this Nettle Soup really deserves your full attention, I loved it. As you must have noticed, I added bacon in my soup, it is mainly because I had friends who passed by and who stayed for dinner; this remains optional. For my Nettle Soup for fun, I didn't want to mix it, but once again it's mainly to have more contrast on the photo, afterwards, I like unmixed soups better. With my three four articles on nettles, I think I'll move on, even in the spring this Nettle Soup was welcome. I'm going to think about other ideas with nettles, soon it will be wild asparagus, I don't yet know if we can find any around Le Bourget, but I will find out.
Nettle soup recipe for 4 people
Ingredients
50 g nettles
2 new garlic cloves
100g smoked bacon (optional)
1 young and small leek
2 potatoes
½ shallot chicken
1 tablespoon of olive oil
1.5 liters of water
Instructions
Rinse the nettles with water, then dry them with food paper.
Stalk the nettles and keep only the leaves.
Peel the garlic
Peel the potatoes, then cut them into small cubes.
Peel the leek, then slice it into thin slices, including the green.
Strip the smoked breast.
Slice the smoked bacon into small cubes.
Sear the bacon in a hot pan without fat and with the rind.
Add the garlic and leek, then the nettles.
Pour the oil over the nettles.
Sear 3 to 4 minutes.
Add the diced potatoes.
Pour water.
Season generously with salt and pepper.
Simmer for 15 minutes.
Just before serving blender if you wish.
Preparation time: 20 minutes
Cooking time: 15 minutes
Number of people: 4
4 star rating: 1 review
What wine to drink with: Nettle soup recipe
My favorite wine for this recipe Menetou blanc Loire Valley Grape varieties: Sauvignon blanc
Temperature between 08 ° and 10 °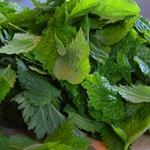 Pick and rinse the nettles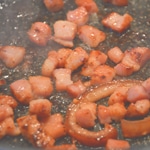 Sear the bacon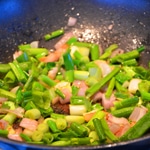 Sear with the young leeks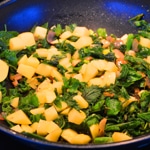 Add potato and nettles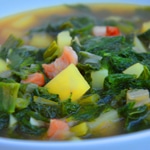 Zoom