Recipe: Cottage cheese sauce
Cottage cheese sauce recipe, a diet recipe or rather a recipe for people who want to be careful. Smooth, it should appeal to everyone to accompany meats, fish, vegetables … Cottage cheese sauce is my favorite low-calorie recipe, they remain delicious and I love its texture.
Recipe ingredients
Cottage cheese sauce recipe for 6 people:
500 g of cottage cheese
1 shallot
1 clove of garlic
2 tbsp of parsley
2 tbsp of chives
1 tsp of strong mustard
1 tsp of walnut vinegar
1 teaspoon ground cumin
1 tip of a knife of Espelette pepper.
Instructions
Rinse the parsley and chives.
Peel the shallot and the garlic clove.
Finely chop the parsley, garlic and shallot with a knife.
Pour the fromage blanc in a salad bowl.
Salt and pepper.
Add the walnut vinegar and mustard.
Sprinkle with cumin and toss to incorporate all the elements.
Add the parsley and chives at the end.
Pour into your dish and just before serving sow a little chilli and chives.
Preparation time: 18 minutes
Cooking time: 0 minutes
Number of people: 6
4 star rating: 1 review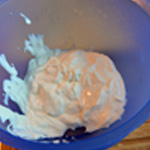 White cheese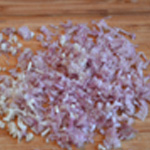 Chop the shallots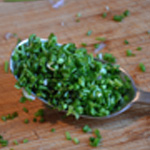 Cut the chives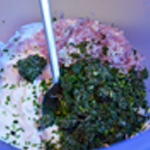 Mix the ingredients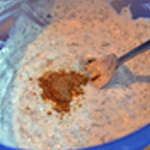 Add the cumin