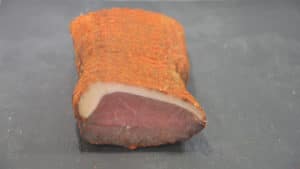 Dried duck breast and paprika recipe
It's so good that it never lasts more than an aperitif, with these rather discreet spices, this dried duck breast and paprika took all its value on the occasion of the arrival of my beautiful daughter. I really like ducks and this year, the breeders' sector suffered from avian flu, it is important to verify the origins of your ducks and to confine yourself only to French poultry. Dried duck breast and paprika can wait a few weeks in your fridge, of course: the longer it waits, the drier it will be. My son found that he was not as usual, indeed the drying time was reduced, I will not make this mistake again. From the next duck promotion I will give him a Dried Duck Breast and Paprika again, with a test over two months, of course, I will keep you posted.
Dried duck breast and paprika recipe for 1 breast
Ingredients
1 duck breast
500 g of coarse salt
1 tablespoon of sweet paprika
1 teaspoon of Espelette pepper
Instructions
Rinse the duck breast with clean water.
Wipe the duck breast with food paper.
Cover the bottom of a dish with coarse salt for at least 2 cm.
Place the duck breast flesh side down on the salt.
Cover the duck breast with the rest of the salt.
Pack down a little.
Film everything and let stand 16 hours in the fridge.
In a bowl mix the spices.
Rinse the duck breast thoroughly then dry it without leaving any moisture.
Rub the duck breast so as to penetrate the spices in the duck breast and on all sides.
Wrap the piece around a tea towel and tie it up with food string.
Let stand for at least 21 days in the crisper of your fridge, but it can stay there much longer.
Preparation time: 10 minutes
Cooking time: 0 minutes
Number of people: 1 duck breast
4 star rating: 1 review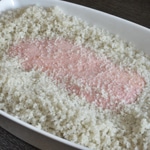 Duck breast in coarse salt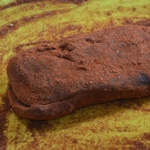 Rub the duck breast with the paprika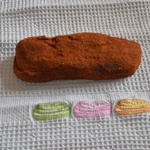 More than to dry it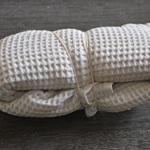 Let it rest at the bottom of the fridge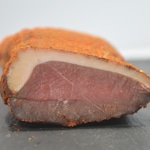 Zoom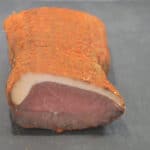 What wine to drink with: Dried duck breast and paprika
My favorite wine for this recipe: Moulis-en-Médoc 2011 from Château Anthonic Merlo grape, Cabernet Sauvignon, Petit verdot
Temperature between 16 ° and 17 °
Partnership with Château Anthonic in Moulis en Médoc in Gironde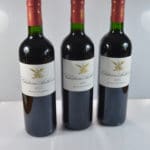 Bottles
Zoom
A thought to all those connected from France or abroad in love with French cuisine and its wines, here is a great opportunity for you to buy a quality wine, without any risk, to accompany my duck breast recipe dried paprika. I selected this Moulis-en-Médoc wine from the Bordeaux region of Château Anthonic after tasting it, in fact we also taste a red vintage for aperitifs.
Château Anthonic 2011 Moulis-en-Médoc
With its pretty light ruby color, it gives way to red fruits with aromas of strawberries and currants then to grilled notes of spices. A very supple wine to enjoy now. Silver medal at the Brussels World Competition in 2014
Chateau Anthonic
SCEA Pierre Cordonnier
33480 MOULIS EN MEDOC
Email: contact@chateauanthonic.com
Phone. +33 5 56 58 34 60 </p