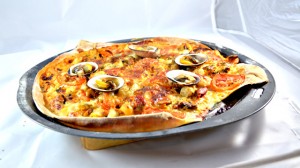 Recipe: Seafood pizza
Seafood pizza recipe, seafood pizza, that changes us a bit from the four cheese pizzas, which my daughter used to ask me for. Fish is good for your health, you don't eat enough, it remains an expensive product, but with a little imagination you can get around the problem. Pizza garnish, this time we used whipped cream, to change from the tomato. Thin pizza dough for this recipe, but cook it well because the fish rejects a little water during baking.
Recipe ingredients
Seafood pizza recipe for 2 pizzas or 3 people:
1 ball of pizza dough in a food processor
1 k mussels
300 g of roosters
300 g of cod
210 g of scallop nuts
260 g of prawns
240 g almonds
35 cl of cream
1 large onion
125 g mozzarella
30 g of Gruyere
1 teaspoon of powdered fish stock
1 tablespoon of tomato paste
10 cl of white wine
Oregano
Instructions
Rinse the shellfish with water.
Heat the white wine in a casserole dish.
Add the seashells.
Place the cod fillet on the shells.
Remove the pavement as soon as it has whitewashed.
Gradually remove the shells as soon as they open.
Separate the shells and collect the pre-cooked flesh.
Open the almonds in half.
Remove the shrimp from the shell.
Peel then thinly slice the onion.
Rinse, then cut the tomatoes into strips.
Roll out the pizza dough thinly for this recipe.
Whip the cream to thicken it.
Add the tomato paste and the fish stock to the whipped cream.
Liberally distribute the tomato cream over the pizza.
Sprinkle with the grated Gruyere.
Sow oregano regularly on the pizza.
Add the mussels and roosters.
Remove the leaves from the cod and sprinkle it on the pizza.
Add the scallops.
Sprinkle with the sliced onion.
Add the tomato slices over the onions.
Slice the mozzarella and distribute over the pizza
Bake at 220 ° for 25 minutes.
Place the almonds with the half-shell.
Bake for another 5 minutes.
Preparation time: 30 minutes
Cooking time: 30 minutes
Number of people: 3
4 star rating: 1 review
What wine to drink with: Seafood pizza
My favorite wine for this recipe: Arbois Trousseau Grape Trousseau, Poulsard, Pinot noir
Temperature between 11 ° and 13 °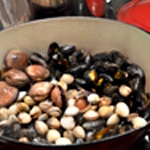 Cook mussels and roosters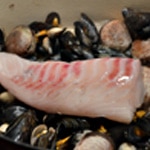 Add the cod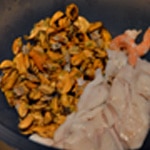 Remove the shells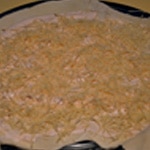 Cream and cheese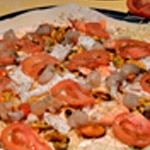 Tomatoes and mussels